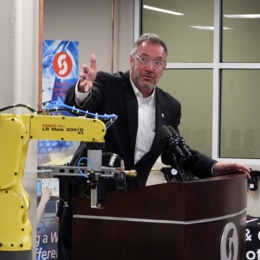 Sinclair Community College officially unveiled its newly-renovated and expanded Industrial Maintenance and Technology (IMT) Lab on Tuesday, June 29th at the Courseview Campus Center in Mason. Over 70 people toured the renovated facility inside Building B during a public open house.
Last year, the Sinclair Community College Board of Trustees invested $1.2 million to reinvigorate the automation and smart manufacturing programs in Warren County.
"This venture strengthens our ability to educate and train more people to meet high-demand workforce needs in sectors throughout southwest Ohio," said Dr. Steve Johnson, President – Sinclair Community College. "It is an investment in our students' futures and in the region's workforce."
Sinclair began the construction project in late 2020. The expanded facility is now ready to train students for in-demand careers in automation and smart manufacturing.
"Enhancing and strengthening Sinclair's IMT program will put more students on the path to well-paying, fulfilling careers," added Madeline J. Iseli, Senior Vice President – Advancement and Regional Strategy, Sinclair Community College.
Right now, there are more than 4,000 industrial maintenance technician-related jobs in Butler, Clermont, Hamilton, and Warren Counties. Each month, 235 jobs are posted in the 11-county region of southwest Ohio. That is 37% higher than the national average. Students can earn over $42,000 per year starting out.
"The experience I have had at Sinclair has been phenomenal. I have been able to get hands-on experience on all of the equipment that you see in the industrial maintenance lab and the sensors lab," added Conner Elliott, Sinclair College student. "Those skills have allowed me to move into an apprenticeship where I am now earning while I'm learning."
Students in the IMT program develop the knowledge and skillset required for installing, maintaining, and troubleshooting modern industrial machinery. They learn to solve practical maintenance problems, read, and interpret mechanical drawings, and interpret maintenance publications.
The renovated space also includes an expanded Workforce Development Lab featuring Sinclair's SkillsTrac Industrial Maintenance Training Program which allows employers to tailor training to fit their specific needs and minimize the time their workers are away from the job.
-more-
Sinclair's investment will also enhance the efforts of the Office of Work-Based Learning that works with employers, students, and schools to create a pre-apprentice-to-apprentice pipeline benefiting students and employers. Sinclair's Office of Work-Based Learning currently has 65 active apprenticeships with over two dozen employers.
To learn more about program offerings at Sinclair's Courseview Campus Center in Mason, visit sinclair.edu/mason.
###
Additional information about Sinclair's Courseview Campus Center in Mason:
The Sinclair College campus in Mason continues Sinclair's mission of providing accessible, affordable, flexible education to meet the needs of the community. Conveniently located, the campus is easily accessible from I-71. Sinclair in Mason offers a full-service small-campus feel, with all the advantages and resources of a large public community college. 30 degree and certificate programs are offered in Mason, with over 60 fully online programs and almost 300 programs available system-wide. Students can earn job-ready credentials, or earn credits that transfer easily to any four-year college or university.
• Current Enrollment: 1400 @ Mason
• Student-Faculty Ratio 17:1
• Undergraduate Degrees: 30 academic programs in their entirety at Mason.
• Subject Matter Expertise: Automation and Smart Manufacturing, Healthcare, Business, Information Technology, and programs designed for transfer to a four-year college or university.
• Internet of Things certificates and degree are brand new programs.
• Distance from Downtown Cincinnati: 24 miles
• Sinclair College Courseview Campus Center, 5386 Courseview Drive – Mason, Ohio