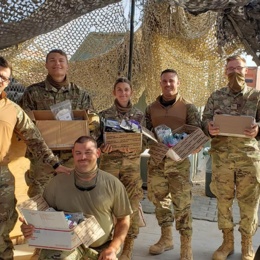 Students and faculty in Sinclair College's Dental Health Sciences program are coming together to show support for one of their instructors who is serving in the Middle East. Ohio Air National Guard Member Roxanne Sickel and her unit were deployed to the Middle East in July. Sickel is an adjunct faculty member for Sinclair's Dental Health Sciences program.
Her students and fellow faculty members are sending care packages to Sickel and her unit. The first packages arrived earlier this week and were filled with toiletries, spices, hot sauce, card and board games, and other comforts of home including chocolate and peanut butter buckeyes.
"This effort reflects the spirit of the bonds created at Sinclair between students and faculty. It is a simple gesture to express our gratitude for the troops and also to let Roxanne know how much she is missed," said Sue Raffee - Chair, Sinclair College Dental Health Sciences.
Sickel completed her Associate of Applied Science in Dental Hygiene at Sinclair in 2014. She became an adjunct faculty member in Sinclair's Dental Health Sciences program in 2015. Sickel also completed her Bachelors in dental hygiene at Ohio State University while working as a dental hygienist and adjunct instructor. Her future goals include going to dental school.
Sickel's tour with her Ohio Air National Guard Unit is expected to end in early 2021.