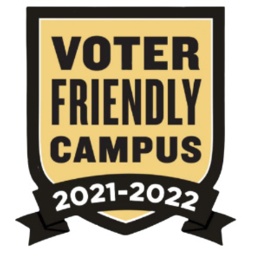 Sinclair Community College is being recognized as a "Voter Friendly Campus" by the NASPA - Student Affairs Administrators in Higher Education and Fair Election Center's Campus Vote Project. This national designation recognizes higher education institutions that engage their campus communities and promote voter registration and voting as part of their institutional mission.
Sinclair has a long history of organizing student events that provide opportunities for voting education and registration. Prior to the COVID-19 global pandemic, in-person events were held throughout the academic year including Welcome Week voting information sessions, "Exercise Your Right to Vote" events that combined voter education and registration with yoga or other sports, National Voter Registration Day question and answer sessions, voter engagement stations on campus, and symposiums about the history of voting. Sinclair continued its commitment to voter education and registration for students by providing multiple virtual events.
"Sinclair College is proud to receive this recognition for the incredible work of our faculty and staff to engage students in the democratic process," Dr. Scott Markland, Senior Vice President – Sinclair College Student Development. "Despite the tremendous challenges presented by the pandemic, Sinclair's commitment to providing voter education events for our students never wavered. We adapted our efforts to ensure we could deliver those events virtually."
According to the Center for Information and Research on Civic Learning and Engagement, 52 to 55 percent of voting-eligible young people, ages 18-29, cast a ballot in the 2020 presidential election.
Sinclair College is one of 231 higher education institutions to earn the "Voter Friendly Campus" designation.