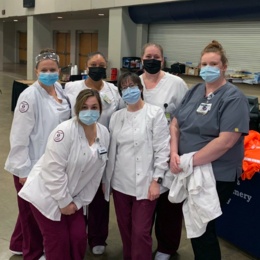 Sinclair Community College nursing students and faculty are playing critical roles in Public Health – Dayton & Montgomery County (PHDMC) COVID-19 vaccination clinics. Over the last several months, the students and faculty have supported 24 PHDMC vaccination clinics.
164 Sinclair nursing students, 22 nursing faculty, one medical assisting faculty member, and the Health Sciences Assistant Dean together logged 1,110 volunteer hours and administered 2,298 COVID-19 vaccine shots.
"Sinclair's nursing students and staff are putting their exceptional training and skills to work as part of our region's efforts to protect the community from COVID-19," said Dr. Rena Sebor, EdD – Dean, Sinclair College Health Sciences Division. "Sinclair's efforts are another example of our mission to find the need and endeavor to meet it."
Next week, 73 nursing students will graduate from Sinclair College bringing this academic year's total of nursing graduates to 138 (65 graduated in December, 2020).
Sinclair's Health Sciences Division offers 57 accredited associate degrees, one-year certificates, and short-term certificates that lead to prosperous and rewarding careers. Over the past five years, 7,600 Sinclair students have graduated as registered nurses, respiratory therapists, nurse aides, medical assistants, and more.
To learn more about Sinclair's Nursing Program, visit:
https://www.sinclair.edu/academics/divisions/hs/nsg/