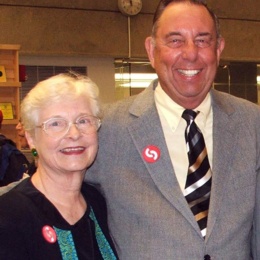 Sinclair Community College is mourning the loss of community advocate Doris Ponitz, the beloved wife of former Sinclair President Dr. David Ponitz. Doris Ponitz passed away on December 1, 2020.
"When Doris and David arrived in Dayton 45 years ago, they immediately embraced this community and its citizens through support of numerous organizations and projects," Sinclair Community College President Dr. Steve Johnson said. "Our thoughts and prayers go out to our dear friend, David, their children, Cathy and David, their family, and their many friends."
Doris' passion for education led her to establishing and chairing the Centerville Education Foundation. She founded Kids Voting Ohio and chaired the Dunbar Institute and the Dayton Philharmonic Volunteer Association.
"Doris was an impassioned, exacting leader who sought to realize the best for this community in the arts, education, civic engagement, international relations, and so much more," added Madeline Iseli, Sinclair College Senior Vice President – Advancement and Regional Strategy.
Following the signing of the Dayton Peace Accords, Doris made numerous trips to Croatia and Bosnia in her effort to strengthen bonds of peace. She also received numerous accolades throughout her life including an Ohio Governor's Award for her community service. She was also the Honorary Chair of the Dayton Literary Peace Prize Foundation Board of Trustees.
"Her passion for people was unmatched and Doris touched so many lives locally, nationally, and across the globe," said Jeff Boudouris, Sinclair Senior Vice President and Chief Financial Officer. "She will be forever remembered for her kindness and compassion for others."
Doris was inducted into the Dayton Region Walk of Fame in 2012, two years after her husband David's induction.
"Doris focused on make the Dayton region a better place through her leadership in the arts, education, and so many other initiatives," added Dr. Dave Collins, Sinclair Senior Vice President – Workforce and Organizational Development.
Doris' memory will continue to positively impact Sinclair students through the Dave and Doris Ponitz Leadership Scholarship that was established in 1997 to assist recipients pursuing a degree, and to develop their leadership potential through experiential education opportunities and mentor relationships.
Contributions to the Sinclair Foundation in memory of Doris Ponitz can be made at: https://give.sinclair.edu/DorisPonitz?fbclid=IwAR2oTWLifUCcBEN-CdYM9HAQwSNWHUzM9kgBRJ6oMP2YrheeIl5WO31_-L4