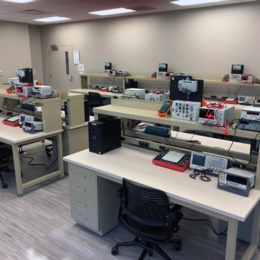 Sinclair Community College's Courseview Campus in Mason is inviting the public to tour its newly-renovated and expanded Industrial Maintenance Technology (IMT) Lab. Last year, the Sinclair College Board of Trustees invested $1.2 million to reinvigorate automation and smart manufacturing programs in Mason.
The public is invited to tour the state-of-the-art facility during a special open house on Tuesday, June 29, 2021:
IMT Lab Open House
Tuesday, June 29, 2021
3:00 – 5:00 p.m.
Sinclair College Courseview Campus in Mason – Building B
5380 Courseview Drive, Mason, OH 45040
Visitors are asked to sign-up for the open house at this link:
https://sinclaircc.wufoo.com/forms/industrial-maintenance-automation-lab/

Sinclair began the construction project to renovate and expand the IMT lab and classrooms at the Mason campus in late 2020. The facility is now ready to train students for in-demand careers in automation and smart manufacturing.
Students in the IMT program will develop the knowledge and skillset required for installing, maintaining, and troubleshooting modern industrial machinery. They learn to solve practical maintenance problems, read and interpret mechanical drawings, and interpret maintenance publications.
To learn more about program offerings at Sinclair's Courseview Campus in Mason, visit sinclair.edu/mason.