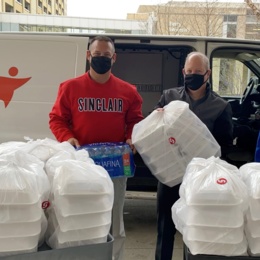 Sinclair Community College is proudly launching an effort to provide hundreds of boxed lunches to healthcare workers throughout the Dayton region during the months of January and February. Sinclair College, in collaboration with its food service vendor ARAMARK, is preparing up to 150 boxed lunches per day, Tuesdays through Fridays, and delivering them to hospitals throughout the community. Each box contains a "thank you" note.
"Sinclair College is proud to show our appreciation for the incredible work being done by the region's medical professionals," said Jeffrey A. Miller, Vice President – Administration, Sinclair Community College. "Healthcare workers are under extreme pressure due to the global pandemic and this is our way of saying, 'thank you.'"
Many of the healthcare workers on the frontlines in the Dayton region are Sinclair College graduates. In the past five years, 7,600 students have graduated from Sinclair College as registered nurses, respiratory therapists, nurse aides, medical assistants, and more. In December 2020, Sinclair graduated 65 registered nurses.