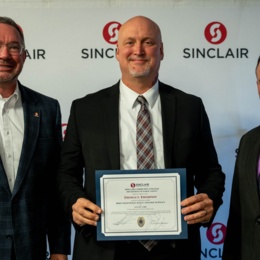 Following an extensive national search, Sinclair Community College has selected Thomas "Tom" Thompson as the new Director of Public Safety and Chief of Police. Thompson will start in his new role on Monday, January 3, 2022.
Thompson previously served as the Network Executive Director of Police and Security in the Kettering Health Network (KHN). Prior to his employment at KHN, he served as an Assistant City Manager in Miamisburg and retired as the Assistant Police Chief of the Miamisburg Police Department, a department in which he also served as Detective Sergeant, Administrative Sergeant, Patrol Sergeant and Patrolman. He has extensive experience in organizational and community strategic planning, budgeting, and community service.
In his new position, Thompson will oversee the Sinclair Police Department, the Department of Public Safety, and the Communications Center. He will supervise an Assistant Chief, three Lieutenants, 15 police officers, full and part-time dispatchers, and multiple part-time Safety Information Officers.
"Tom brings a wealth of law enforcement experience and a commitment to building relationships that will continue Sinclair's dedication to ensuring a safe and a secure learning environment for students, faculty, staff, and the community," said Jeffrey A. Miller, Sinclair College Vice President for Administration.
Thompson is a veteran of the United States Air Force and holds a Master of Public Administration from Wright State University and a Bachelor of Criminal Justice from Chapman University. Additionally, he has been very active with non-profit work as the Founder and Executive Director of Valens Solutions, focused on connecting at-risk persons with community resources and advocating on their behalf in both criminal and civil matters to ensure justice, equity, and optimal outcomes.
"It is an honor to serve at Sinclair Community College, an institution dedicated to enriching and strengthening our region through education. I look forward to using my experiences to build on the success of Sinclair's Department of Public Safety through professionalism, integrity, and accountability," added Thompson, Sinclair College's new Director of Public Safety and Chief of Police.
Thompson is succeeding John Huber who retired as Sinclair's Director of Public Safety and Chief of Police in December after a 44-year career in law enforcement, with more than 10 years at Sinclair.
Learn more about the Sinclair Community College Department of Public Safety at: sinclair.edu/publicsafety.