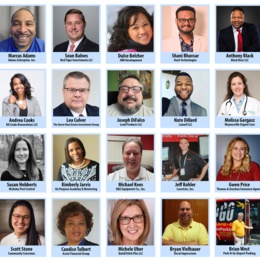 Sinclair College is celebrating the second graduating class of the Goldman Sachs 10,000 Small Businesses (10KSB) Program. 20 Dayton-area entrepreneurs have successfully completed the vigorous 14-week virtual program.
The 20 graduates from across the region represent multiple industries including healthcare, information technology, body care, real estate, remodeling, marketing, pest control, construction, mentoring, insurance, and transportation.
"Entrepreneurs and small business owners play a vital role in growing jobs and the local economy. This innovative partnership between Sinclair College and Goldman Sachs provides practical strategies, along with an arsenal of resources, tools, and ideas, for participants," said Kandise Bobo, Program Manager – Sinclair Workforce Development.
Program participants receive one-on-one business advising and learn alongside peers from a variety of industries. Graduates leave the program with a specific 5-year growth plan tailored to their business and is immediately implementable.
The program is offered at no cost to selected business owners who receive a full scholarship funded by the Goldman Sachs Foundation.
According to the Goldman Sachs Foundation, 67% of the program's alumni reported increased revenues and 47% added new jobs within six months of graduating.
Sinclair Workforce Development is currently recruiting for the next Goldman Sachs 10KSB Program class which will begin in May 2022. The program looks for applicants who are passionate about growing their business and creating jobs in their communities, and generally meet these criteria:
• Owner or co-owner of a business
• Business in operation for at least two years
• Business revenues of at least $75,000 in the most recent fiscal year
• Minimum of 2 employees (including the owner)
To learn more about the Goldman Sachs 10,000 Small Businesses program, contact Kandise Bobo at kandise.bobo@sinclair.edu or visit https://www.10ksbapply.com/ohio
To learn more about Sinclair Workforce Development programs, visit: https://workforce.sinclair.edu/
For details on all of Sinclair Community College's academic offerings, visit: https://www.sinclair.edu/