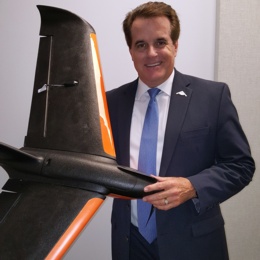 Sinclair Community College announced the first winner of its Unmanned Aerial Systems (UAS) Business Plan Competition on Tuesday, July 20th. Gregory Wirth of Waynesville was recognized during a special ceremony inside the Dayton Arcade Rotunda.
The Sinclair UAS Business Plan Competition provides an opportunity for Sinclair students, alumni, and their partners to receive support in forming a high-tech UAS-related startup business. Wirth is currently pursuing a UAS Bachelor of Applied Science degree and has already earned his UAS First Responders short-term technical certificate at Sinclair. Wirth's business concept centered on providing a UAS pilot staffing and support company to meet the needs of those requiring UAS services, while at the same time creating an easy way for other Sinclair students and alumni to find and be engaged in opportunities.
"Sinclair provides more than world-class programs and instruction focused on UAS technology," said Wirth. "The college also goes the extra mile to provide opportunities for students to compete for resources that enable them to take what they learn in the classroom and launch their careers. I am beyond grateful for this opportunity."
Wirth's new company has been incorporated in Ohio, named Airborne Solutions of Ohio, LLC, with preparations underway to launch services in summer 2021. Following his selection as the winner of the inaugural Sinclair UAS Business Plan Competition, Wirth was chosen to participate with several other growing companies in a six week UAS focused Accelerator led by the Entrepreneurs' Center and supported by Sinclair, which was enabled through an Office of Economic Adjustment (OEA) grant. He also has been awarded a resources and support package valued at $25,000 by the Entrepreneurs' Center, leveraging the Ohio Entrepreneurial Services Provider (ESP) program, to help with the creation, growth, and support of his new venture.
In 2019, Sinclair College, in partnership with several regional and national organizations, received a $545,000 grant from the National Science Foundation (NSF) (DUE 1902003) to fund high school STEM and college level educational programs to help meet the growing need for tech entrepreneurs in the UAS industry. Creation of Sinclair's UAS Business Plan Competition is a significant part of the grant funding.
"As a national and international leader in UAS innovation, curriculum, and partnerships, Sinclair College recognizes the vital need to establish career pathways to meet the workforce needs of the rapidly growing UAS industry," said Dr. Steve Johnson, President – Sinclair Community College.
More than 100,000 new jobs in UAS-related fields are predicted nationwide from 2015 through 2025.
Along with the UAS Business Plan Competition, the grant funding is being used to:
Establish a one-year UAS/entrepreneurship postsecondary certificate program that will articulate to both Sinclair's current UAS Associate of Applied Science (AAS) degree and pending UAS Bachelor of Applied Science (BAS) degree
Provide Science, Technology, Engineering, and Mathematic (STEM) content and train-the-teacher modules to high school teachers with innovative curriculum, multimedia, and learning activities introducing UAS technologies, applications, and business opportunities.
Build new collaborations among academia, industry, and government to support entrepreneurial technicians, including leveraging the model developed at Sinclair to enable similar UAS focused business plan competitions in other regions including Minnesota and New Jersey.
"Many of our students enter Sinclair's UAS program with the intent of gaining the skills they need to start their own businesses. Combining our world-class instruction and facilities with an added focus on business, we are positioning students to be successful in the creation of their own startup firms supporting UAS services and technology development and integration," said Dr. Andrew Shepherd, Executive Director and Chief Scientist, Unmanned Aerial Systems – Sinclair College.
Sinclair College partnered with the Entrepreneurs' Center to collaboratively develop the UAS Business Plan Competition and provide a variety of resources to support UAS focused entrepreneurial students.
"We are thrilled to join with Sinclair College to support talented and visionary entrepreneurs as they build technology companies of the future. The UAS market is one of the best for aspiring entrepreneurs, and we simply couldn't ask for a better partner than Sinclair and their world-class UAS Center," said Scott Koorndyk, President of the Entrepreneurs' Center.
Other national partners include Atlantic Cape Community College in New Jersey and Northland Community & Technical College in Minnesota.
Additional grant collaborating partners include the Ohio Minority Business Assistance Centers, Dayton Development Coalition, and the Dayton Regional STEM Center.
Following the event, members of the media toured the Sinclair Entrepreneur Center inside the Dayton Arcade. Sinclair is joining the University of Dayton and the Entrepreneurs' Center at the Hub in the Dayton Arcade to expose Sinclair students to entrepreneurial opportunities and support services enhancing Sinclair's academic programs.