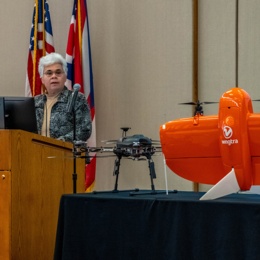 Sinclair Community College announced the winner of its 2nd Annual Unmanned Aerial Systems (UAS) Business Plan Competition on Wednesday, June 1, 2022. Aurea L. Rivera, Professional Engineer (PE) and President/Founder of Carbon Metrics Global™ was recognized at a special event held at Sinclair's downtown Dayton campus.
The Sinclair UAS Business Plan Competition provides an opportunity for Sinclair students, alumni, and their partners to receive support in forming and advancing high-tech UAS-related startup businesses. Carbon Metrics Global™, a sector of Imagineering Results Analysis Corp.™, is a woman-owned, Ohio-based engineering company that uses UAS and satellite data to provide the needed cost-effective methods and standards for measurement, reporting, and verification (MRV) of carbon in the soil. The corporate headquarters for Carbon Metrics Global™ is at The Hub at the Arcade in downtown Dayton.
"Great ideas will die without critical support. Winning the Sinclair UAS Business Plan Competition is opening the door to many entrepreneurial support opportunities including the economic resources necessary to facilitate access to the Entrepreneurs Center's network that includes business leaders who understand the infrastructure and logistics required to convert an idea to a viable business concept," said Aurea L. Rivera, PE, Sinclair College UAS Business Plan Competition winner. "Agriculture provides one avenue for greenhouse gas capture. Soil conservation practices, stewardship of our land resources, and technology will permit the deployment of end-to-end solutions that will preserve our way of life. Dayton and Carbon Metrics Global™ will play a key role in making the climate-smart vision a reality."
In 2019, Sinclair College, in partnership with several regional and national organizations, received a $546,000 grant (DUE 1902003) from the National Science Foundation (NSF) to fund high school STEM and college level educational programs to help meet the growing need for tech entrepreneurs in the UAS industry. Creation of Sinclair's UAS Business Plan Competition is a significant part of the grant funding. According to Research and Markets, the global drone service market accounted for nearly $630 million in 2018 and is projected to grow at a compound annual growth rate of 51.1% over the forecast period 2019-2027.
"Sinclair Community College recognizes the vital role small businesses play in the creation of jobs and growing the economy in the Dayton region. We are proud to support entrepreneurs by creating career pathways to meet the workforce needs of the rapidly growing UAS industry," said Dr. Steve Johnson, President – Sinclair Community College.
Along with the creation and execution of the UAS Business Plan Competition, the grant funding is being used to:
• Establish a one-year UAS entrepreneurship postsecondary certificate program that articulates to both Sinclair's current UAS Associate of Applied Science (AAS) degree and UAS Bachelor of Applied Science (BAS) degree.
Provide Science, Technology, Engineering, and Mathematic (STEM) content and train-the-teacher modules to high school teachers with innovative curriculum, multimedia, and learning activities introducing UAS technologies, applications, and business opportunities.
Build new collaborations among academia, industry, and government to support entrepreneurial technicians, including leveraging the model developed at Sinclair to enable similar UAS focused business plan competitions in other regions including Minnesota and New Jersey.
"As a national and international leader in UAS innovation, curriculum, and partnerships, Sinclair combines our world-class instruction and facilities with an added focus on business to position our students for success in the creation of their own startup firms supporting UAS services, as well as technology development and integration," said Dr. Andrew Shepherd, Executive Director and Chief Scientist, Unmanned Aerial Systems – Sinclair College.
Sinclair College partnered with the Entrepreneurs' Center to collaboratively develop the UAS Business Plan Competition and provide a variety of resources to support UAS focused entrepreneurial students.
"The Entrepreneur's Center is proud to partner with the exceptional team at Sinclair College as we empower talented and visionary technology business owners with the resources they need to grow their companies, create jobs, generate revenue, and attract investment," said Scott Koorndyk, President of the Entrepreneurs' Center.
Other national partners include Atlantic Cape Community College in New Jersey and Northland Community & Technical College in Minnesota.
Additional grant collaborating partners include the Ohio Minority Business Assistance Centers, Dayton Development Coalition, and the Dayton Regional STEM Center.
Following the media event, Sinclair hosted the Association of Uncrewed Vehicle Systems International (AUVSI) Wright Brothers Chapter Summer Meeting featuring presentations from the Entrepreneurs' Center and Sinclair College regarding UAS-related and broader focus entrepreneurship resources and support. Attendees also participated in a walking tour to the Hub at the Arcade in downtown Dayton.
###
Photo Caption:
(L to R) - Dr. Andrew Shepherd, Executive Director and Chief Scientist, Unmanned Aerial Systems – Sinclair College, Rocky Belcher, Professor & Department Chair of Management, Marketing, & Entrepreneurship, Aurea L. Rivera, PE, Sinclair College UAS Business Plan Competition winner, Jeffrey A. Miller, Vice President of Administration - Sinclair College, Scott Koorndyk, President of the Entrepreneurs' Center