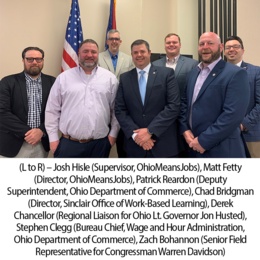 Educators, employers, and workforce development leaders gathered this week to explore ideas and develop strategies around "Engaging the High School Talent Pool." More than 50 individuals attended the myth-busting workshop held at the Warren County Educational Service Center (ESC) in Lebanon.
Sinclair's Office of Work-Based Learning and the Warren County ESC co-hosted the April 11th event with support from the European American Chamber of Commerce of Greater Cincinnati and the Tri-State Tooling & Manufacturing Association. Special guests included master of ceremonies Patrick Reardon, Deputy Superintendent – Ohio Department of Commerce), keynote speaker Stephen Clegg, Bureau Chief, Wage and Hour Administration – Ohio Department of Commerce, and Derek Chancellor, Regional Liaison for Ohio Lt. Governor Jon Husted.
Topics for the "Engaging the High School Talent Pool" Workshop included "Minor Labor Laws" and a panel discussion about "Employing High School Students & Integrating Them into Your Organization." The panel included Doug Watts, CEO – Metalworking Group, Monica Lang, Vice President – Engineering – Southwest Local Schools, Corrine Hayes, Assistant Superintendent – Goshen Local Schools, and Mark Edwards, Director of College and Career Readiness – Goshen Local Schools.
"This event aligns directly with Sinclair's mission to find the need and endeavor to meet it by bringing together community, education, and business leaders to discuss and formulate strategies to address the workforce shortage facing every industry in Southwest Ohio," said Chad Bridgman, Director – Sinclair Office of Work-Based Learning.
"With the proper training and guidance, high school students can gain vital skills in the classroom and on the job while employers build their workforce now and for the future," added Tom Isaacs, Superintendent – Warren County ESC. "We are proud and eager to work with our partners to further the success of our students and employers in the region."
To learn more about the Warren County ESC, visit warrencountyesc.com.
Employers can learn more about bridging the gap between high schools, post-secondary education, and the workforce by contacting Sinclair's Office of Work-Based Learning at 937-512-2769.
(L to R) – Josh Hisle (Supervisor, OhioMeansJobs), Matt Fetty (Director, OhioMeansJobs), Patrick Reardon (Deputy Superintendent, Ohio Department of Commerce), Chad Bridgman (Director, Sinclair Office of Work-Based Learning), Derek Chancellor (Regional Liaison for Ohio Lt. Governor Jon Husted), Stephen Clegg (Bureau Chief, Wage and Hour Administration, Ohio Department of Commerce), Zach Bohannon (Senior Field Representative for Congressman Warren Davidson)