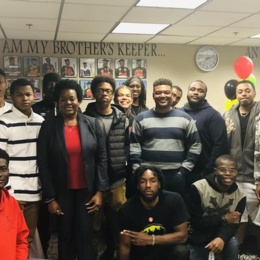 Sinclair Community College is celebrating Black History Month with a focus on student success and continuing to strengthen programs and services for African American students.
Since 2012, Sinclair College has seen a 229% increase in the number of degrees and certificates earned by African American students.
Since 2011, Sinclair College has seen a 409% increase in the number of degrees and certificates earned by African American male students.
"While Sinclair College is incredibly proud of the strides we have made for our African American students, we are committed to continuing and strengthening our efforts to ensure new and existing students receive the support and resources they need to achieve their dream of a quality college education and the skills they need for in-demand careers," said Dr. Steve Johnson, President and CEO – Sinclair Community College. "We have an obligation to our community and students to champion opportunities and access because it is the right thing to do."

The Dayton region recently lost a true advocate for opportunities, former Sinclair College Chair and member of the Board of Trustees, John E. Moore, Sr. "Mr. Moore aided thousands of Sinclair Community College students through the years by championing access opportunities for those who desire a college education to create a brighter future for themselves, their families and their community," added Johnson.
In 2016, the Sinclair Board of Trustees established the African American Male Initiative (AAMI) to address issues of educational equity and social justice. The Board of Trustees allocated $1 million over five years to increase student success among African American males, a population that faces persistent gaps in attainment and faces unique challenges in a college environment including accessing resources, successfully engaging with faculty, staff, and peers, and navigating college processes, systems, and structures. Earlier this week, the Sinclair Board of Trustees approved reauthorizing funding for Sinclair's AAMI for FY22-23.
2020 presented additional challenges for students with the onset of the COVID-19 global pandemic as Sinclair College transitioned courses to 85% online for the fall term. Sinclair purchased and distributed 800 laptops to students using CARES Act Funding and thousands of other pieces of equipment to ensure students could continue their education online. Efforts included increased outreach to various student populations, including African American students. During the 2020 fall term, Sinclair staff made approximately 20,000 calls to students to provide support and access to resources.
In July 2020, the Sinclair College Board of Trustees allocated an additional $1 million to intensify existing diversity, inclusion, and anti-racism efforts across all areas of the college. As part of these efforts, Sinclair College has presented more than 75 virtual, racial and social justice discussions for over 1,000 participants.
Sinclair College has multiple virtual events planned for Black History Month and throughout the year as part of the college's diversity, inclusion, and anti-racism initiatives. To see a full calendar of these events, visit: https://www.sinclair.edu/diversity.