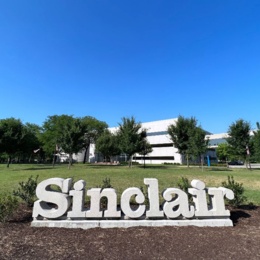 Sinclair Community College's Fall Term is underway with a continued focus on student success and services and new academic programs aimed at meeting the workforce needs of employers in the region.
In-person enrollment for Fall Term 2022 is up more than 24% over 2021, while online enrollment has grown nearly 16% over last year. The number of students pursuing Sinclair bachelor's degrees has grown significantly over 2021 with a 65% increase. 123 Sinclair students are working toward bachelor's degrees in Aviation Technology/Professional Pilot and Unmanned Aerial Systems.
Currently, overall Fall Term 2022 enrollment is on par with last year. However, the college has several business units in areas such as College Credit Plus and the prison education program that are still processing students. The college will release additional information comparing enrollment to previous years as it becomes available.
Sinclair College is introducing 18 new degrees and certificates for Fall Term 2022 that will prepare students quickly and for less money to meet the needs of employers in the region.
"Sinclair's new programs remain true to our mission of finding the need and endeavoring to meet it," said Dr. Steve Johnson, President & CEO – Sinclair Community College. "Our new degrees and certificates continue our tradition of providing the exceptional education and training students need to succeed in high-demand, well-paying jobs while supporting the workforce needs of employers."
New Sinclair College Degrees and Certificates:
Advanced Video Production
Advanced Web Design
Agribusiness Greenhouse Management
Bakery Operations and Pastry Skills
Basic Baking and Fundamentals
Basic Preparation of Food
C-Print Captioning
Culinary Skills and Food & Beverage Operations
Data Literacy Foundation
Digital Media Design
Energy and Sustainability Technician
Geospatial Technology Analyst
Greenhouse Technician
Hospitality Leadership and Administration
Urban and Community Agriculture
Veterinary Assistant
Video Production
Web Design
Sinclair remains focused on supporting students with multiple services including free, confidential 24/7 counseling services, a free mental health app, mobile grocery, mobile health clinic, financial counseling, legal assistance, and medical advocacy services. Sinclair also has a full-time licensed social worker to connect students with resources.
In 2022, Sinclair College is building on the success of a record academic year. In 2021-2022, Sinclair awarded its highest ever number of degrees and certificates to a record number of students.
Approximately 11,000 degrees and certificates were awarded to nearly 9,000 students. In addition, African American students earned a record number of degrees and certificates (2,464) and a record number of high school students (69) earned Sinclair Associate Degrees while still in high school.
For details on Sinclair Community College's academic offerings and student services, visit: sinclair.edu