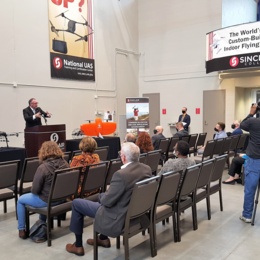 Dayton, Ohio – Sinclair College's National UAS Training and Certification Center has been selected to join the world's leading unmanned aerial systems research team as a core member of the Alliance for System Safety of UAS through Research Excellence (ASSURE), the Federal Aviation Administration's (FAA) Unmanned Aerial Systems (UAS) Center of Excellence. Sinclair is the only community college in the nation to join this elite group.
On Thursday, October 21, 2021, business and community leaders and elected officials joined representatives from Sinclair College and ASSURE for a special event announcing this new role for the college and expanded partnership.
"This is a tremendous opportunity for Sinclair College and our UAS Center to leverage capabilities and advance knowledge in concert with the world's leading UAS research institutions, enabled through ASSURE," said Dr. Steve Johnson, President – Sinclair College. "The projects we will work on with this exceptional group will further the creation of jobs in the UAS industry and advance the safe and effective integration of UAS technology locally, nationally, and globally."
ASSURE provides high-quality research and support autonomy stakeholders both within the U.S. and beyond, to safely and efficiently integrate autonomous systems into the national and international infrastructure in order to increase commerce and overall public safety and benefit.
Sinclair has served as an affiliate member of the ASSURE Center of Excellence since 2015. Elevation of Sinclair's role to a core member level allows Sinclair to lead projects and expand its contributions.
"Sinclair and the State of Ohio have been leading the nation in the research, development, and integration of unmanned aircraft technology for some time now. Sinclair's promotion from an Affiliate to a Core member in the ASSURE alliance is a recognition of their tremendous effort, an official acknowledgement of their important contributions, and their placement into a leadership role within the Center of Excellence going forward," expressed Stephen P. Luxion, Col (Ret) "LUX" – Executive Director, ASSURE Federal Aviation Administration Center of Excellence for UAS.
As an ASSURE affiliate member, Sinclair's UAS Center has supported multiple projects including the study of safety for UAS automation and intelligent systems, as well as UAS pilot and crew training, procedures, and controls stations.
"We are excited to take on this expanded role as a core member of the Center of Excellence and are grateful to the ASSURE leadership, other members, and of course the FAA for recognizing Sinclair's UAS-related capabilities and expertise," added Dr. Andrew Shepherd, Executive Director and Chief Scientist, Unmanned Aerial Systems – Sinclair College. We look forward to collaborating with all ASSURE institutions on furthering UAS technology development and expanded safe implementation."
Sinclair's National UAS Training and Certification Center is currently working with members of ASSURE to advance small UAS type certificate processes and to conduct UAS STEM outreach for K-12 students, educators, and the general public.