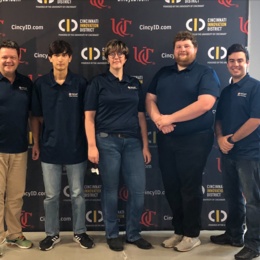 Sinclair College Aviation Technology students soared above the competition to win the FlyOhio Vertiport Challenge 2021. Sinclair's students competed against higher education institutions from across the state including the University of Akron, University of Cincinnati, Columbus College of Art and Design, Ohio State University, Ohio University, and the University of Toledo.
The 2-week competition, held at the University of Cincinnati, brings together partners from industry, government, education, and community organizations and challenges students to develop innovative solutions for Urban Air Mobility and Vertiports. Sinclair's students participated in the regional competition on October 8th, moving on to the state competition on October 15th.
Sinclair's FlyOhio Vertiport Challenge 2021 team consisted of: Gerson Pereira Da Silva, Alexander Cain, Sarah Leigh Brown, Brendon Moss, and Tyler Cayot.
The coach of the team was Benjamin Sears, Assistant Chair/Associate Professor – Sinclair College Aviation Technology.
Students participating in the FlyOhio Vertiport Challenge 2021 are tasked with developing business plans for implementing vertiports for either cargo or medical transport. Vertiports are designated areas that allow vertical landing and takeoff for aircraft including drones. Sinclair's winning presentation focused on the development of vertiports for distribution centers using a hub and spoke model.
An initiative of DriveOhio, FlyOhio operates out of the Ohio Unmanned Aerial Systems (UAS) Center and seeks to rapidly advance the widespread use of vertical takeoff and landing vehicles in the Ohio airspace. FlyOhio works with public, private, and academic partners to develop, test, and deploy the technology needed for drones to safely fly long distances without fear of collision, ultimately bringing the use of unmanned aircraft for freight, package, and personal transportation closer to reality.
To learn more about Sinclair College's Aviation Technology Department, visit: Sinclair.edu/Aviation.
###

Photo caption:
(L to R): Gerson Pereira Da Silva, Alexander Cain, Sarah Leigh Brown, Brendon Moss, and Tyler Cayot.