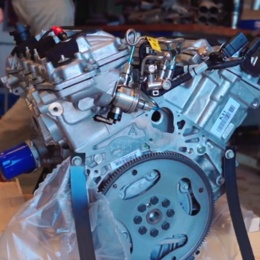 Sinclair College Automotive Technology students are getting vital hands-on training as a result of a generous equipment donation from Reichard Buick GMC. The dealership has donated four new General Motors (GM) engines and a transmission to Sinclair's GM Automotive Service Educational Program (ASEP).
"We are incredibly grateful for the generous support from Reichard Buick GMC," said Chuck Taylor – Professor, Sinclair College Automotive Technology. "This donation allows our students to build their skills on the latest technology and ultimately use those skills on the job."
With the donated equipment, Sinclair Automotive Technology students will be trained to disassemble the engines and transmission, measure the components internally, diagnose issues, and then reassemble. The Reichard Buick GMC equipment donation is valued at more than $27,000.
"Reichard Buick GMC is proud to support Sinclair's program as we work together to build a skilled workforce," added Jeff Reichard – Reichard Buick GMC. "With the Sinclair ASEP Program, we have had technicians that have graduated from that program that have been with Reichard over 30 years and have become world-class technicians. It's a great program and we love to support it."
Sinclair's Applied Science in General Motors Automotive Service Educational Program (ASEP) provides training for students aspiring to become automotive technicians for General Motors dealerships or AC Delco independent shops. Specific GM training is presented to apprentice student technicians as they apply learned content to a co-op work experience. Students attend classes for half a semester and then apprentice at a GM/AC Delco sponsoring dealership the other half. Students are paid for work during the co-op experience. Students receive hundreds of hours of official GM training credits that are recorded in the corporation's training database. Upon graduation, students receive a Sinclair associate degree and a GM job opportunity from the sponsoring dealer.
Watch the donation video at: https://www.youtube.com/watch?v=VyVpxHq_N4Q
Learn more about Sinclair's GM - ASEP and other Automotive Technology programs at: sinclair.edu/automotive