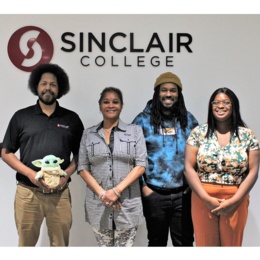 Sinclair Community College and Montgomery County recognized the first students completing the new Information Technology (IT) Fundamentals Certification course being offered at the Montgomery County Employment Opportunity Center (MCEOC) in the Westown Shopping Center.
Sinclair and Montgomery County established the innovative education and workforce partnership earlier this year to prepare individuals for rewarding, in-demand jobs in computer science and information technology. Five students are completing the 8-week course. Three of the students were recognized at a special event on Friday, October 21, 2022, at the MCEOC.
The IT Fundamentals Certification course provides students with an overview of programming techniques and languages, various computer operating systems, application software, and the underlying hardware elements of modern computers.
"I am grateful to Montgomery County and Sinclair Community College for providing this opportunity for me to gain new skills and develop techniques that will help me further my career in IT and eventually start my own business," said Draelind Cannon.
"The instruction I received was incredible and I know this certification will allow me to stand out to employers who are looking for specific skills in their employees," added student Janisa Allen.
"The IT Fundamentals Certification provides the foundation I need to further my education and career in computer systems," said student Tersa Weber.
With the completion of the 8-week course, the students are now preparing to take their certification tests.
The MCEOC, built in the Westown Shopping Center at 4303 W. Third Street in Dayton, provides access to job search help, training opportunities, free community spaces, and Montgomery County's youth mentoring programs. Sinclair College provides educational programming that includes entry-level Information Technology (IT) certifications and apprenticeship opportunities through Sinclair's Office of Work-Based Learning where students can earn while they learn. Montgomery County and Sinclair are working to identify apprenticeship opportunities for IT vacancies at the County.
"Montgomery County is incredibly proud of these students, the first of many, who are gaining vital skills and knowledge to advance their careers in computer science. Our partnership with Sinclair Community College will continue to spark innovative ideas that support the citizens of Montgomery County," said Commissioner Carolyn Rice, President – Montgomery County Board of County Commissioners.
"This partnership with Montgomery County aligns directly with the mission of Sinclair Community College to find the need and endeavor to meet it by helping students earn high quality credentials that lead to meaningful careers," added Dr. Steve Johnson, President – Sinclair Community College.
Sinclair's next IT Fundamentals Certification course begins November 14, 2022. For more information, contact the Montgomery County Employment Opportunity Center at 937-496-7002 or Sinclair Workforce Development at 937-252-9787.
Photo (L to R):
Sinclair IT Specialist and Instructor Liban Knight, and students Tersa Weber, Draelind Cannon, and Janisa Allen.