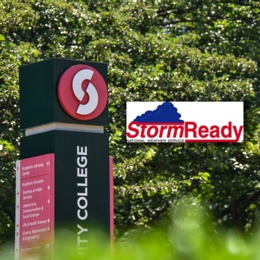 Sinclair Community College has, once again, achieved StormReady status from the National Weather Service.
The StormReady program provides communities and organizations with communication and safety skills needed to save lives and property before, during and after severe weather events. The program encourages communities to take a new, proactive approach to improving local hazardous weather operations by providing emergency managers with clear-cut guidelines on how to improve their hazardous weather operations.
Sinclair College is one of 290 higher education institutions in the United States to achieve StormReady status from the National Weather Service. Sinclair's Department of Public Safety leads the StormReady application process in coordination with departments throughout the college.
"Achieving StormReady status is another example of Sinclair College developing and executing plans and policies to provide safe environments for students, faculty and staff at all of our campus locations," said John Huber, Sinclair's Director of Public Safety and Chief of Police. "While we can't prevent severe weather, we can prepare, and this is one of the tools that allows us to do that."
In order to achieve StormReady status, institutions must:
• Establish a 24-hour warning point and emergency operations center
• Have more than one way to receive severe weather warnings and forecasts and to alert the public
• Create a system that monitors weather conditions locally
• Promote the importance of public readiness through community seminars
• Develop a formal hazardous weather plan, which includes training severe weather spotters and holding emergency exercises.
Learn more about Sinclair's emergency preparedness efforts at:
https://www.sinclair.edu/services/conduct-safety/public-safety/planning-for-emergencies/