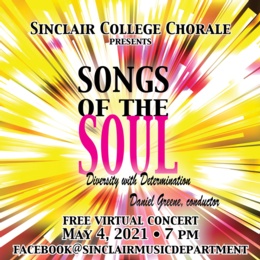 Sinclair Chorale, under the direction of Daniel Greene, will present a free virtual concert beginning Tuesday, May 4 at 7 p.m. on Facebook@sinclairmusicdepartment.
Songs of the Soul, Diversity with Determination, will feature two unique pieces: Mata del anima sola (Tree of the lonely soul) by Venezuelan composer, Antonio Estevez; and Soul's Anthem by African American artist and composer Kirk Franklin and singer Torie Kelly. The pieces are connected by the affirming message that despite temporary disappointments, "It is well with my soul."
Sinclair Music alumnus Jelani Connally is the audio and video engineer.