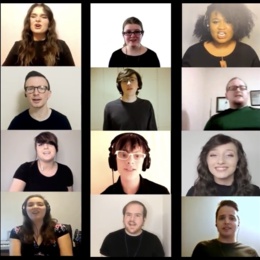 The Sinclair Chorale will premiere "Let Your Voices Be Heard!! And then... LISTEN" as a virtual concert beginning Dec. 8th at 7 p.m. on the Sinclair Music Department's Facebook page @sinclairmusicdepartment.
According to director, Daniel B. Greene, selections were chosen to spotlight the Chorale's diverse membership and talent. The first piece "Joyful, Joyful" from Sister Act II: Back in the Habit (adapted by Roger Emerson, composed by Ludwig von Beethoven and arranged by Mervyn Warren) reminds us to celebrate life and each other.
The second piece, "Sing Gently" by Eric Whitacre was composed especially for this time of pandemic and social justice challenges. "This song encourages us to speak gently to each other, sharing our differences but remembering that we are all human beings deserving of dignity, respect, equity, and love," said Greene.
Chorale members:
Soprano: *Cara Clark, Josie Gore, Rebekah Higley, Trinity Rice
Alto: Kristen Greissmann, Mikayla Minges, *Emily Shafner, Mengqiao Ye
Tenor: Josiah Hall, Paul Hodson, Terence Kennedy, *Russell Paquay, Drew Powell, James Roberts
Bass: *Frederic Blackwell, Kevin Haynes, Micah Miller, Samuel Mosher
*denotes section leader
Audio and video design by Jelani Stokes utilizing state-of-the-art Band in a Box and DAW (digital audio workstation) software programs used for composing, producing, recording, mixing and editing audio and MIDI. Stokes is a Sinclair alumnus who is currently a music teacher at Trotwood Schools.