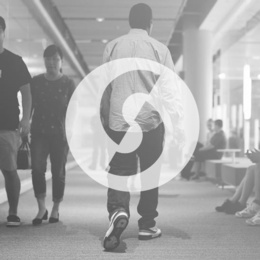 Sinclair College is recognizing and celebrating the record 53 College Credit Plus (CCP) participants who will graduate this week with Sinclair associate degrees while still in high school. This is a 12% increase over last year.
More than 8,100 students, the highest number yet, enrolled in CCP at Sinclair for the 2020-2021 school year. CCP is Ohio's dual-enrollment program giving students in grades 7-12 the opportunity to take college courses for free and earn high school and college credit before graduating high school. CCP provides high school students the option to choose from a wide-range of courses and programs in both a career and technical field of study that prepares them for in-demand jobs, as well as general education courses that can be transferred to a four-year university.
"Sinclair College is incredibly proud of these students and the dedicated staff of our School Partnerships Group who overcame enormous challenges during the pandemic to achieve tremendous success," said Dr. Steve Johnson, President – Sinclair Community College. "The work of Sinclair's CCP and Tech Prep programs and the partnerships with K-12 districts are vital to preparing students for in-demand jobs."
Sinclair's 53 CCP graduates represent 25 area high schools in the Southwestern Ohio region. 13 of the 53 graduates earned an Associate of Technical Studies in Electro-Mechanical Engineering Technology through Sinclair's partnership with Butler Tech. 13 of the students have a 4.0 GPA.
"Motivation and love for learning are the best tools for success at college. My time as a CCP student at Sinclair provided me with many opportunities and experiences that I would have otherwise missed out on. One of the benefits of being a CCP student is the time and money that you save as well as the awesome experiences and the chance to grow and really challenge yourself," said Emma Blair – Sinclair College CCP Student.
"CCP provides students the incredible opportunity to earn college credit and/or degrees before graduating from high school at no cost to their families," added Melissa Tolle, Chief School Partnerships Office – Sinclair Community College. "It's a win-win for our region and families, helping students earn college credit, find a career path, and ultimately employers get a skilled workforce to fill in-demand jobs."
During the 2019-2020 academic year, students participating in Sinclair's CCP program earned nearly 55,000 credit hours. Sinclair Community College's School Partnerships Group is inclusive of College Credit Plus, Tech Prep, and Transition Advising.
Sinclair College works closely with regional employers to offer specialized career pathways for in-demand jobs including advanced manufacturing, health care, cybersecurity, automotive technology, aviation, and more.