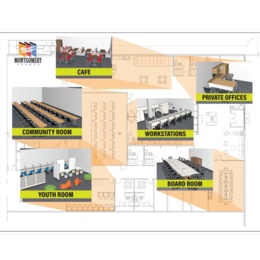 West Dayton residents will soon have close access to entry-level Information Technology certifications and other opportunities. The Montgomery County Board of Commissioners has approved a memorandum of understanding with Sinclair College, which will bring education and apprenticeship services to the forthcoming Montgomery County Employment Opportunity Center at 4303 W. Third Street in Dayton.
The Sinclair Community College Board of Trustees previously approved a $310,000 investment in the Employment Opportunity Center, to build out and lease space in the center.
"Sinclair College is proud to be a part of this vital investment in West Dayton by offering academic and workforce programs to help area residents secure high demand credentials leading to meaningful employment," said Dan Sadlier, Chairman – Sinclair Community College Board of Trustees.
"This is an exciting addition to our Employment Opportunity Center," said Montgomery County Commission President Judy Dodge. "With Sinclair, we will provide residents with marketable skills for a lifetime of fulfilling employment."
Sinclair and Montgomery County will collaborate to provide apprenticeship opportunities within the county's internal IT department. This program will serve as a model other local employers can use to fill IT vacancies with new talent while diversifying their workforce.
"This initiative will enhance Sinclair's commitment to providing greater equity for the West Dayton community," Dr. Steve Johnson, President & CEO – Sinclair Community College. "We are grateful for the opportunity to partner with Montgomery County and other organizations to revitalize West Dayton and bring quality education and career services to its citizens."
Montgomery County is investing $2 million into the Westown Shopping Center to build out a space for job services, youth mentoring programs, and community spaces for the residents of West Dayton. Sinclair's investment will construct 1,735 square feet of classroom space with furniture, fixtures, and equipment.
"This project is all about building a strong workforce for our entire county," said Montgomery County Commissioner Debbie Lieberman. "Partnering with Sinclair is going to enhance what is possible through the Employment Opportunity Center. People will be able to get IT training and work with our recruiters all in one location."
Sinclair's classroom/lab space will be flexible and allow for the addition or modification of course offerings to meet the changing workforce needs of the region. The space will also include office space for faculty and staff to meet with students to provide necessary support services.
"Our goal is to ensure that all residents of Montgomery County have equal opportunities for success," said Montgomery County Commissioner Carolyn Rice. "The addition of Sinclair to this project is going to give people a tremendous opportunity to build new skills in a field with high demand for workers."
Sinclair College anticipates offering coursework at the new Montgomery County Employment Opportunity Center once construction is completed in mid to late summer 2021.