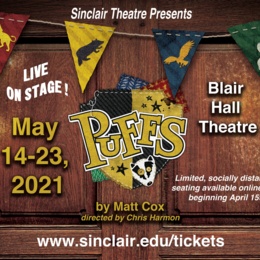 Sinclair Theatre proudly presents the hilarious comedy PUFFS, by Matt Cox, LIVE ON STAGE, beginning May 14-23 in Blair Hall Theatre on Sinclair's downtown campus. Limited seating will be available and all COVID 19 safety protocols will be enforced.
The New York Times proclaims PUFFS, "A fast-paced romp through the 'Seven Increasingly Eventful Years at a Certain School of Magic and Magic.' "
Licensing agent Concord Theatricals claims: "This clever and inventive play 'never goes more than a minute without a laugh' (Nerdist) giving you a new look at a familiar adventure from the perspective of three potential heroes just trying to make it through a magic school that proves to be very dangerous for children. Their hilariously heartfelt and epic journey takes the classic story to new places and reimagines what a boy wizard hero can be."
Directed by Chris Harmon, the cast includes: Kasaahn Johnson, DeAndre Swann and Lilly Robillard as the three friends; Meredith Sandstorm as narrator; with David Shockey, Kylee Pauley, Mark Kreutzer, Callista Kinney, Leia Gaddis, Christopher Koehler and Grace Baumgardner.
PUFFS also provides unique opportunities for student designers Aurora Azbill (costumes), Carter Paige (props) and Liv McNamara (asst. scenic). Design team also includes: Chris Harmon (set), Daniel Brunk (sound) with Sinclair alums Jessy Henning (lighting) and Brian Morgan (stage manager).
"This production has been a long time in coming," says Gina Neuerer, chair of Sinclair Music, Theatre & Dance. "PUFFS was originally planned as our opener in the fall and it has taken great coordination to be able to finally produce it on stage safely. We're extremely grateful to Sinclair administration for approving our safety plan and allowing our students to perform live."
Tickets cost $18 for adults and $15 for students and seniors. All tickets must be purchased online in advance at www.sinclair.edu/tickets beginning April 15th. The box office will not be open for will call or sales at the door. Patrons can show their e-ticket on their phone at the theatre doors for touchless scanning or they can print their tickets at home.
"Our software algorithm provides for social distancing by automatically seating every other row and maintaining 3 empty seats between groups," says Patti Celek, Sinclair Theatre marketing and box office manager. "We encourage people to plan who they want to be in their party and purchase all tickets at the same time."
All patrons will be required to wear a mask while on Sinclair's campus. Free parking is available in the new lot directly across Fourth St. from Blair Hall which is in building 2 OR in the student parking garage on 5th Street.
Puffs is not authorized, sanctioned, licensed or endorsed by J.K Rowling, Warner Bros. or any person or company associated with the Harry Potter books, films or play.
Puffs contains adult content and crude language that is unsuitable for children. These are NOT the wizards you know.