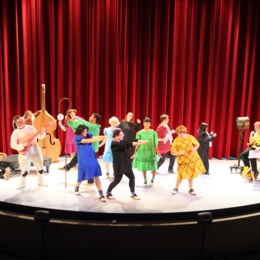 The spirit of giving filled Blair Hall Theatre at Sinclair Community College as students, faculty, and staff presented seven performances of "A Charlie Brown Christmas" to more than 2,200 guests in December.
This year, Sinclair's Theatre Department continued to give back to the community by offering accessible performances to hundreds of adults and children. Each performance featured American Sign Language (ASL) Shadow Interpreters for the deaf community. In addition, seating was removed to clear the way for attendees in wheelchairs.
"I could not be prouder of the students, faculty, and staff of Sinclair's Theatre Department who recognize that performing arts should be accessible for all. Each year, they go above and beyond to ensure individuals, children, and families have an unforgettable experience," said Gina Neuerer, Chair – Sinclair Community College Music, Theatre and Dance Department. "This incredible effort reflects the mission of Sinclair to find the need and endeavor to meet it by presenting this Christmas classic in ways that benefit so many in our community."
Two additional performances were offered at no charge to individuals and caregivers from adult day care centers and children and adults with special needs.
This is the eighth year that the Sinclair Theatre Department presented "A Charlie Brown Christmas."
"Affordability is another way we give back to the community. When we started this holiday tradition in 2014, tickets were eight dollars and we have kept that price the same to make sure this fun and exciting experience is affordable," added Neuerer.
Sinclair's Theatre Department offers Associate of Arts Degrees in Theatre Performance and Theatre Technology. Students gain quality theatre education and rewarding production experiences. Learn more about Sinclair's Theatre Department at Sinclair.edu/Theatre.
Sinclair's theatre season continues in 2023 with the musical "The Hello Girls" presented March 24 through April 1, 2023. From New York to Paris, from ragtime to jazz, "The Hello Girls" chronicles the story of America's first women soldiers. It is the story of women who answered the call, with music and lyrics by Peter Mills; book by Peter Mills and Cara Reichel. These intrepid heroines served as bilingual telephone operators on the front lines, helping turn the tide of World War I. They then returned home to fight a decades-long battle for equality and recognition, paving the way for future generations. The production will be directed by Kimberly Borst with Charles Larkowski as music director. For tickets and more information, visit Sinclair.edu/Tickets.

The Theatre Department is also partnering with Sinclair's Office of Diversity in 2023 for the "Free Expressions Series." Sinclair Theatre will offer free performances for students and the community during spring semester:
I Never Saw Another Butterfly
In honor of Holocaust Remembrance Day – A song cycle and one-act play based on the poetry created by children in Terezin, a concentration camp.
Thursday, January 26, 2023 – Noon and 7:00 p.m.
Friday January 27, 2023 – Noon
Sinclair's Black Box Theatre
Sinclair Community College – Dayton Campus
Building 2 (Room 2-411)
(Approximately 80 minutes)

Jackie Robinson Steals Home
In honor of Black History Month – Jackie is attempting to steal home, but also attempting to steal the hearts of the fans and pave the way for people of color to play America's favorite pastime.
Thursday, February 16, 2023 – 7:00 p.m.
Friday, February 17, 2023 – Noon and 7:00 p.m.
Blair Hall Theatre
Sinclair Community College – Dayton Campus
Building 2
(Approximately 45 minutes)
Groups of 20 or more should email patti.celek@sinclair.edu for reservations. All other seating will be first come, first served at the door beginning 30 minutes prior to curtain.