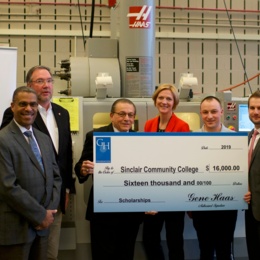 Sinclair Community College received $16,000 from the Gene Haas Foundation to support students interested in pursuing careers in manufacturing. Funds are used to provide scholarship assistance to students enrolled in Sinclair's Computer Aided Manufacturing (CAM) certificate and/or degree programs. Since 2014, Sinclair has been awarded more than $83,000 in student scholarships from the Gene Haas Foundation. The scholarship money has helped and will continue to help Sinclair students with tuition, fees, books, supplies, equipment and any other education-related expenses.
"We are very grateful to the Gene Haas foundation for their support that has and will continue to make a difference in the lives of students, families and the people of this community," said Dr. Steven Johnson, President of Sinclair Community College. "Employers are talking about a lack of skilled workers in manufacturing, and supporting these programs are vital to many of our region's economic development efforts. In order to address the need for more skilled workers in manufacturing, Sinclair currently works with over 800 employers to provide students work-based learning opportunities through internships and apprenticeship programs."
Sinclair's CAM program trains students in Computer Numerical Control (CNC) Technology applications that typically involve the development, set-up, operation and maintenance of CNC machinery. Types of jobs that use CAM include machinists, tool and die makers, and metal and plastic machine workers. Additional jobs include application engineers, sales and entrepreneurship.
Sinclair's CNC lab includes Haas equipment that is ranked among the best in the nation, with three machining centers, three turning centers and seventeen simulators. The Sinclair Community College lab is a direct reflection of the technology being used in industry. All Haas CNC machines are manufactured in the United States.
The Gene Haas Foundation's primary goal is to build skills in the machining industry by providing scholarships for CNC machine technology students and National Institute for Metalworking Skills (NIMS) credentials.
Sinclair is recognized as a local and national leader in delivering high quality and affordable higher education. One of the oldest and best-known community colleges in the nation, Sinclair was founded in 1887 by David A. Sinclair and is a board member of the prestigious League for Innovation in the Community College. Sinclair offers more than 260 accredited degrees and certificates. For more information, contact Deena John at 937-272-8208 or deena.john@sinclair.edu