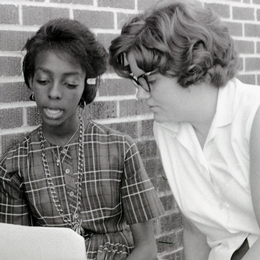 In the spring of 1964, Herbert Eugene Randall, Jr., a talented young African and Native American photographer, was awarded a fellowship to spend a year photographically documenting contemporary Negro life. He decided to photograph Freedom Summer activities in Hattiesburg, Mississippi.
With gratitude to Mr. Randall, Sinclair will have several of the images from the Freedom Summer project on display in the library loggia on the downtown Dayton Campus from February 1 – March 31.
During the summer of 1964, Randall not only documented the social and political efforts of the Hattiesburg Project, but also vividly depicted the hardships of Negro life in a racially discriminating Mississippi.
Over the course of the ten-week Freedom Summer Project:
1,062 people were arrested (out-of-state volunteers and locals)
80 Freedom Summer workers were beaten
37 churches were bombed or burned
30 black homes or businesses were bombed or burned
4 civil rights workers were killed (one in a head-on collision)
4 people were critically wounded
At least 3 Mississippi blacks were murdered because of their support for the Civil Rights Movement
About the Photographer
Herbert Randall, born in 1936 on Long Island New York, studied photography under Harold Feinstein in 1957, and, from 1958 to 1966, worked as a freelance photographer for various media organizations. His photographs were used by the Associated Press, United Press International, Black Star, various television stations, and other American and foreign publications. Mr. Randall was also a founding member of the Kamoinge Workshop, a forum for African American photographers, in New York City in 1963.
Following Freedom Summer, Randall returned to New York to continue his career in photography, serving in several photographic positions with youth organization; as Coordinator of Photography for the New York city Board of Education; and Photographic Consultant to the National Media Center Foundation.
Mr. Randall was awarded the Creative Artist's Public Service Grant for Photography for 1971-72, and his photographs have appeared in exhibitions at the San Francisco Museum of Modern Art, The Brooklyn Museums, The art Institute of Pittsburg, and other notable museums. His photographs are permanently represented in the collections of the Metropolitan Museum of Art, the Museums of Modern Art, the New York Public Library, the Library of Congress, and various other repositories.
In June of 1999, Herbert Randall returned to Hattiesburg, Mississippi to attend "Faces of Freedom Summer: The Photographs of Herbert Randall," an exhibit of selected images from Randall's Freedom Summer photographs. In 2001, The University of Alabama Press published a book entitled Faces of Freedom Summer, with features the photographs included in the exhibit.
At the time of this writing Herbert Randall is retired and resides on the Shinnecock Indian Reservation on Long Island, New York.