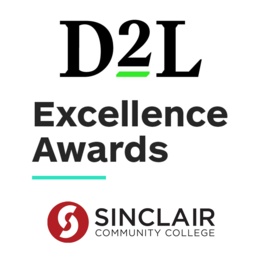 Sinclair Community College's eLearning Division has received the 2022 D2L Excellence Award for using innovation to further student and faculty success during the COVID-19 pandemic. The D2L Excellence Awards recognize educators who have used D2L Brightspace to deliver learning experiences that are innovative, collaborative, or have made an extraordinary impact on learning outcomes. Sinclair's eLearning Division established the Coaching to Complete Program using the D2L Brightspace platform to create additional supports for students and faculty during the transition to all online learning at the onset of the COVID-19 global pandemic.
"Today we're celebrating educators and leaders who are the heartbeat behind innovation and excellence at their organizations," said John Baker, President and CEO of D2L. "Despite challenging years during the COVID-19 pandemic, these recipients were flexible in their methods and steadfast in their mission to deliver outstanding results -- a testament to their dedication to their respective communities. We're proud to highlight their achievements and share shining examples of how they rose above unique challenges to emerge stronger than ever."
By using the Coaching to Complete Program, Sinclair students averaged a 5% higher passing grade rate versus non-participating courses, with a majority of students indicating the coaching helped them with motivation and encouragement, meeting assignment deadlines, finding resources for help, and getting in better contact with their instructors. Since its inception, more than 6,400 students, 50 faculty, and 300 online courses have taken part in Sinclair's Coaching to Complete Program.
"Sinclair College is honored to be named a 2022 D2L Excellence Award winner. The COVID-19 pandemic presented enormous challenges for our students and faculty, but the eLearning Division stayed true to Sinclair's mission to find the need and endeavor to meet it by implementing innovative strategies to keep our students on a path to success," said Dr. Christina Amato, Dean – Sinclair Community College eLearning Division.
In March 2020, Sinclair's eLearning Division rapidly converted 3,000 course sections and transitioned more than 14,000 students to online instruction. Since that time, Sinclair has rolled out 620 additional courses in the eLearning environment and served 39,000 students. Today, Sinclair offers more options than ever: in-person, virtual, online, or a combination, to provide the flexibility students need and want as they balance family, work, and education. Sinclair College currently offers over 70 associate degrees and certificates that can be completed entirely online. Students can also complete part of any of Sinclair's more than 300 associate degree or certificates online.
Sinclair's eLearning Division will be recognized at the D2L Fusion Conference in Boston, Massachusetts in July.