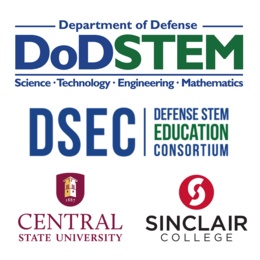 Central State University (CSU) and Sinclair Community College (SCC) are teaming up to establish exciting Science, Technology, Engineering, and Mathematics (STEM) education and career pathways for underrepresented and military-connected students in the Dayton area. A $250,000 grant from DoD STEM administered by the Defense STEM Education Consortium (DSEC) will launch the Central State University – Sinclair Community College STEM Academy.
"DoD STEM is pleased to welcome the CSU-SCC STEM Academy to our Defense STEM Education Consortium," said DoD STEM Director Louie Lopez. "Building strong pathways filled with accessible opportunities for students, from middle school all the way through higher education, is a priority for the Department of Defense. Cultivating a diverse STEM talent pool is vital for maintaining our Nation's competitive advantage in science and technologies – critical to our national security. The Central State University and Sinclair Community College partnership is uniquely situated to provide this necessary support to the Dayton community and beyond."
The first-year pilot will include 18 students from three middle schools and five high schools in Dayton and surrounding school districts including those with Junior Reserve Officers' Training Corps (JROTC) programs and Purple Star designation. Engagement starts in middle school with fun, meaningful STEM activities and continues into high school where students can select from four STEM pathways. Students will transition to Sinclair Community College in one of 11 associate degrees programs and seamlessly transfer to CSU with a total of 15 possible bachelor's degrees focused on science, technology, engineering, and mathematics.
"Central State University is incredibly grateful to DoD STEM for providing this funding that will further strengthen our partnership with Sinclair Community College and allow us to nurture diverse students through STEM education and provide them with opportunities for meaningful in-demand careers," said Dr. Jack Thomas, President – Central State University.
Students join the Central State University – Sinclair Community College STEM Academy as early as their high school freshman year. All targeted high schools have some participation in College Credit Plus (CCP) and Tech Prep programs through Sinclair Community College where students are earning college credits while in high school at no cost to the student. CCP and Tech Prep students in the target demographic will be intentionally invited to apply to the STEM Academy.
"This innovative initiative aligns directly with the mission of Sinclair Community College to find the need and endeavor to meet it. With generous support from DoD STEM, we will build on the strengths of Sinclair and Central State University to prepare students for STEM degrees and build a highly skilled workforce," added Dr. Steve Johnson, President – Sinclair Community College.
During their journey, academy participants will be assigned student mentors from Sinclair and Central State University and participate in summer bridge opportunities at both institutions. Students will receive support, guidance, and access to services including career counseling, resume writing, and interview preparation leading up to graduation.
In addition, students will be provided assistance to complete financial aid applications and connected to existing Sinclair Community College services:
• African American Male Initiative (AAMI)
• Louis Stokes Alliance for Minority Participation (LSAMP)
• Urban African American Mentoring Program (UAAMP)
• Office of Work-based learning
• Southwestern Ohio Council for Higher Education (SOCHE)
• Military Family Education Center
Students transitioning to Central State University from Sinclair will participate in a new two-week residential summer bridge camp that includes professional and leadership skills development; Research Experiential Apprentice Program (REAP), and tours to relevant pathway business and industries.
In October, DSEC, which is managed by RTI International, a nonprofit research institute, selected four historically black colleges and universities (HBCUs) to join the Consortium based on their ability to create and strengthen STEM feeder pathways from Pre-K–12 to community colleges and four-year educational institutions.
###
About Defense STEM Education Consortium
DSEC is a partnership between academia, industry, non-for-profit organizations and government that aims to broaden STEM literacy. By prioritizing critical STEM challenges, DoD is investing in evidence-based approaches to inspire and develop the Nation's STEM workforce. For more information visit dodstem.us.
About Central State University
Central State University, located in Wilberforce, Ohio, is a regionally accredited 1890 Land-Grant University with a 134-year tradition of preparing students from diverse backgrounds and experiences for leadership, research, and service. The University, which has been named HBCU of the Year by HBCU Digest, fosters academic excellence within a nurturing environment and provides a strong liberal arts foundation and STEM-Ag curriculum leading to professional careers and advanced studies globally. Visit the Central State University website – centralstate.edu.
About Sinclair Community College
Sinclair Community College offers more than 300 degree and certificate programs, including specialized and technical areas of study that are in high demand in the Dayton region. Sinclair is recognized as a local and national leader in delivering high-quality and affordable higher education. One of the oldest and best-known community colleges in the nation, Sinclair was founded in 1887 and is a board member of the prestigious League for Innovation in the Community College. To learn more about Sinclair Community College, visit sinclair.edu.