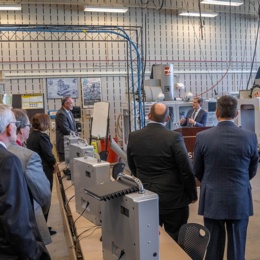 Congressman Mike Turner and leadership from Sinclair Community College toured the manufacturing labs at Sinclair's Dayton campus on Thursday, October 27, 2022. Congressman Turner, with support from Senator Sherrod Brown, was instrumental in securing $1 million in federal appropriations funding for Sinclair's Center for Advanced Manufacturing. Sinclair is using the funding to purchase equipment that will provide vital hands-on training for students and prepare them for in-demand careers in electrical engineering, computer-aided manufacturing, and manufacturing engineering.
"Sinclair Community College is grateful for Congressman Turner's leadership in the region and for supporting Sinclair's efforts to provide high-quality education and hands-on training to students to meet the needs of advanced manufacturing employers," said Dr. Steve Johnson, President – Sinclair Community College. "This funding is essential to provide state of the art training students need to get good jobs and keep our economy competitive."
The new equipment includes:
Computer Numerical Control (CNC) machines
Robots and robot cells
3D Printers
Fume extractors and ventilation systems
Sinclair off­ers more than 30 degrees and certificates that support advanced manufacturing and automation. In addition, Sinclair's Office of Work-Based Learning works with manufacturing companies in the Dayton region to place students in internships or apprenticeships.
In the past five years, Sinclair has awarded the following number of degrees and certificates related to advanced manufacturing:
1,900 – Computer Information Systems
591 – Tooling and Machining Technologies
157 – Robotics
139 – Mechanical Engineering Technologies
100 – Civil Engineering Technologies
15 – Industrial Engineering Technology