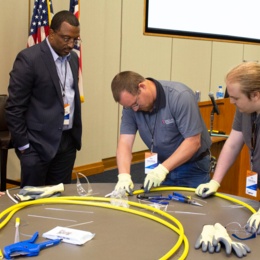 Sinclair Community College hosted a Fusion Splicing Certificate Course, a collaborative training event with Amazon Web Services and Sumitomo Electric Lightwave that earned participants an innovative fiber optic fusion splicing certificate. 20 individuals took part in the June 29-30 course at Sinclair, which offered training on cutting-edge technologies and equipment and covered fiber optic installation and repair. Sumitomo Electric's world-class experts led the instruction in fiber optic technologies.
Amazon Web Services (AWS) is driving fiber optic cable innovation at a rapid pace, resulting in frequent releases of new hyperscale products and solutions, which represent the next generation of fiber optic networks and require training on state-of-the-art equipment to install and operate. Identifying this need to train workers for today and the future, AWS and Sumitomo Electric Lightwave are working together to host Fusion Splicing Certificate Courses at local community colleges across the United States.
"It's important to AWS to help train workers for the high-demand technical jobs of today and the future," said Michael Punke, Vice President of Global Public Policy, AWS. "Technicians skilled in using cutting-edge machines such as the mass fusion splicer will be prepared to perform the critical jobs building the infrastructure needed to wire the country for the digital world. AWS appreciates the opportunity to work with Sinclair Community College and Sumitomo Electric Lightwave to provide this training."
Fusion splicing is the joining of two optical fibers to create a continuous light path, carrying data to technologies such as phones, internet, and television. Through lectures and hands-on lessons, participants became familiar with deploying a passive optical fiber network infrastructure. They learned real-world deployment techniques with tools ranging from hand tools to state-of-the-art automated fusion splicing technology.
Fiber optic cables are the backbone of the modern world, carrying internet, TV, and telephone data, which makes repairing and testing them specialized work. These skills are increasingly needed to build out the world's data and communication networks like 5G as well as data centers. Given this need, and as part of the Amazon commitment to train 29 million people for free on cloud computing and technical skills by 2025, AWS has partnered with Sumitomo Electric Lightwave to host free Fusion Splicing Certificate Courses at colleges across the US, including Sinclair Community College.
Sumitomo Electric Lightwave (SEL) is a recognized leader in optical fiber technologies and solutions for data center, enterprise, and communication networks. Drawing from research and development from its parent company, Sumitomo Electric Industries, Sumitomo Electric Lightwave offers a variety of advanced products in ribbon technology, air-blown fiber, fusion splicing, and connectivity solutions including splice-on connectors.
"Together with AWS and Sinclair Community College, SEL is committed to ensuring Ohio has a prepared workforce capable of creating and sustaining next-generation fiber optic infrastructures," noted Nobuyuki Suzuki, President and CEO of Sumitomo Electric Lightwave.
"This is a tremendous opportunity for Sinclair Community College to strategically partner with global companies like AWS," said Dr. Steve Johnson, President – Sinclair Community College. "This opportunity allows students in the Dayton region to access technologies they could not otherwise obtain in Southwest Ohio. This training will produce high-quality, highly skilled candidates ready for the 21st-century workforce. Anytime we can expose our students to state-of-the-art training from leading industry professionals creates a win-win-win scenario for employers, students, and the region."
At the conclusion of the 2-day course, the students participated in a career networking event to connect them to potential employers.
###