Events at Centerville
Tutoring and Learning Center – Tutor Times
Tuesdays and Thursdays, 8 a.m. - 12:30 p.m.
Location: Centerville, Café
Info: Professional Tutor is Sara Willenbrink-Sahi
---
Accessibility Services – Open House
Wednesday, November 6, 4:30 p.m. - 7:30 p.m.
Centerville Campus, Café
---
Veterans Services – Tabling for Veterans Appreciation Week
Thursday November 14, 2 p.m. - 4:30 p.m.
Centerville, Café
---
TECHCORPShack
The 2019 TECHCORPShack coding event will give high school students the opportunity to learn about computer science in a fun, engaging and inclusive environment. Over the course of the experience, students will learn how to use MIT App Inventor to explore the world of mobile app development and create an app that tackles a real-world need or problem.
Friday and Saturday November 15-16

Friday 6 p.m. - 9 p.m.
Saturday 9 a.m. - 4 p.m.

Centerville Campus
For more information and apply: bit.ly/tchackapp19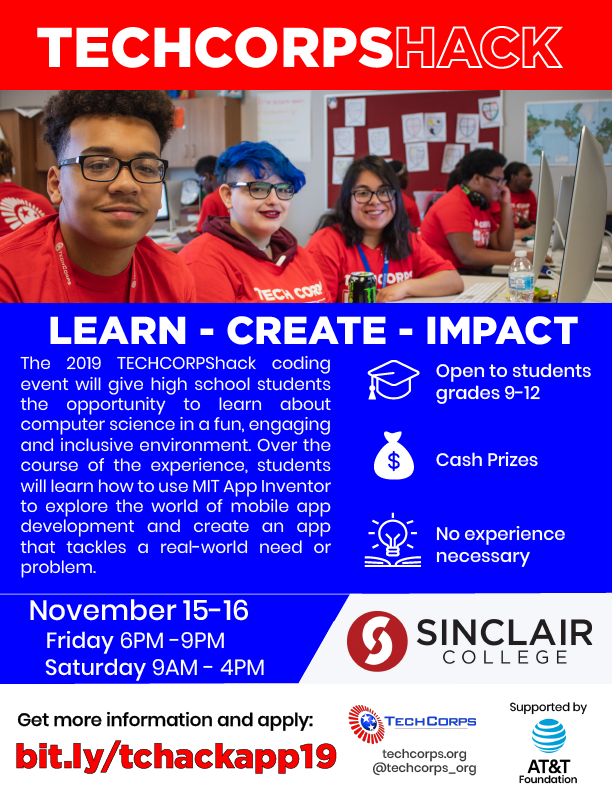 ---
Facility Use
Please call 937-512-2363 or email centerville@sinclair.edu if you are interested in using facilities at Sinclair in Centerville.