JobLink
JobLink is Student and Community Engagement's online job board, powered by College Central Network for Sinclair. Each year we post over 2600 jobs, including full and part-time, seasonal or temporary positions, internships, apprenticeships, and student employment/work study jobs (for Sinclair students only). There are well over 2500 employers in the system, posting job opportunities and looking for qualified candidates.
Students, alumni, and community members have access to this free tool to maximize their job search. Jobseekers are able to search for jobs, receive career related information including job alerts, post their resumes for employers to see, build a portfolio to show their work, and more.
Sinclair College's JobLink is web-based platform that connects students, alumni, community members, with employers and career resources.
WHY USE JOBLINK?
JobLink is easy to use and incorporates a dashboard where all the features are easily accessed through one platform.
Job Agents automatically notify the jobseeker when positions are posted into the system that match their profile information. These notifications appear on the user's dashboard and are sent to the platform's app.
The app can be easily downloaded to any mobile device.
Sinclair is part of a consortium of 15 other colleges in Ohio where employers can post their open positions across the group, increasing the career opportunities available for job seekers using this tool.
Job seekers are able to make their resumes visible to employers searching the database for qualified candidates, streamlining the resume review process and prompting employers to schedule interviews.
There are many ways jobseekers can maximize their job search using Sinclair's newly re-designed career resource, known as JobLink. The increased functionality of this tool includes the ability to search for positions locally and across the state, resume posting, an e-portfolio building tool, access to career resources including podcasts and videos, and much, much more!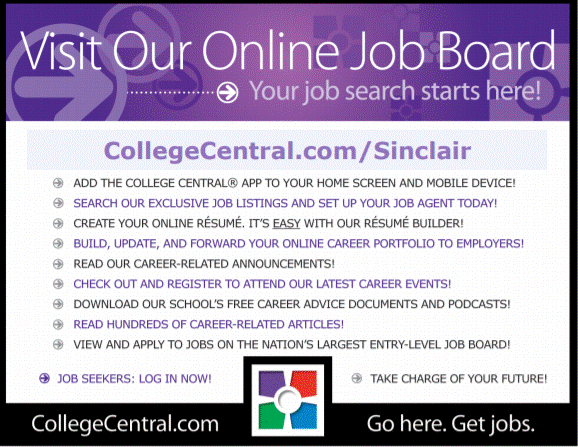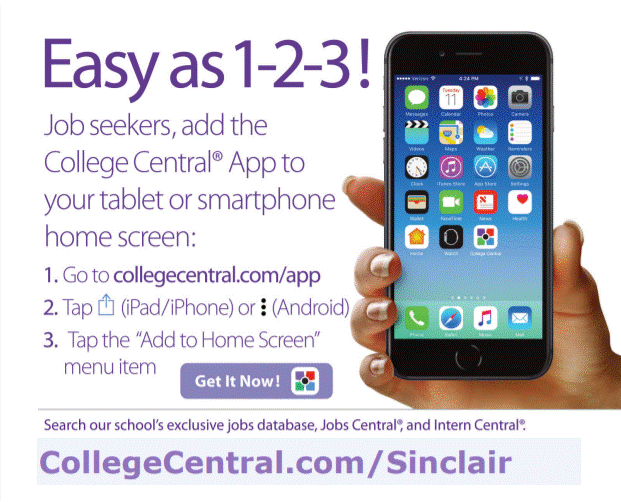 It couldn't be easier to download Sinclair's College Central to receive career related information and tips right away! Be ahead of the competition by receiving notifications about newly posted positions, as soon as they go into the system. Click on the icon on your account dashboard or go to collegecentral.com/app to download the app.
It's as easy as 1-2-3!