Fall Classes Still Available
It's not too late to still register for fall classes! You can still take either 12 week terms or B Term classes for 8 weeks. 12-Week term classes start on September 23 and end on December 15, 2019. B-Term classes begin on October 21 and end on December 15, 2019. You can view the full registration calendar here.
What courses are being offered during the 12-Week and B Term?
Click below to the Registration Portal to see all courses offered and available sections. Click a course below to see available sections in the portal, and to plan your course schedule, and register for classes. New students please call 937-512-3675 for help enrolling or registration assistance. Make sure to also talk to your academic advisor about staying on your MAP to graduate on time.
ALL OPEN COURSES FOR FALL 12-Week & B TERM
Click the course register link to see available open sections.
New to Sinclair?
Never registered for classes at Sinclair before? Make sure you have applied first.
Flexible Class Options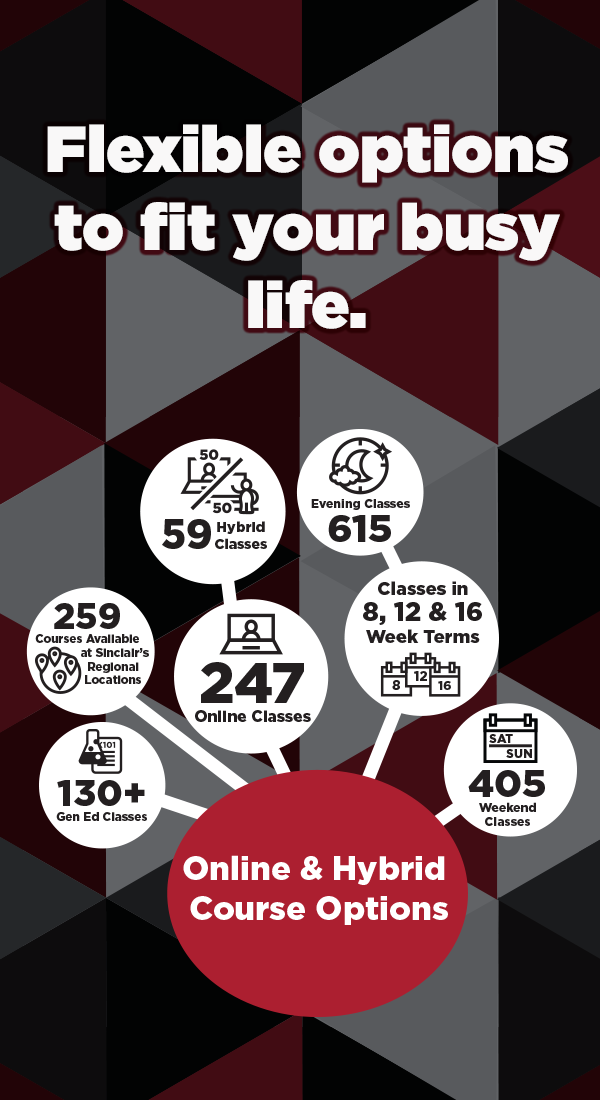 Get Help Paying for Classes
Fall Financial Aid might be available for you. Find out more about how you can pay for college with financial aid and scholarships and payment help with loans and/or payment plans.