Facilities & Sanitation
Campus Space Configuration
All classrooms and meeting spaces have been adjusted to allow for appropriate spacing and barriers where necessary. Maximum room capacities have been adjusted and, where needed, furniture has been removed and/or relocated. In some public areas, seating has been blocked to ensure appropriate spacing.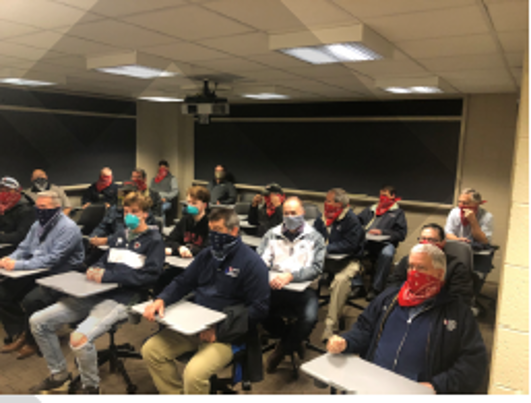 Furniture Spacing
All instructional work and meeting spaces that will be occupied have been adjusted to allow for more physical distancing (appropriate spacing) and barriers where necessary. Maximum room capacities have been adjusted and, where needed, furniture has been removed and/or relocated. In some public areas, seating has been blocked to ensure appropriate spacing.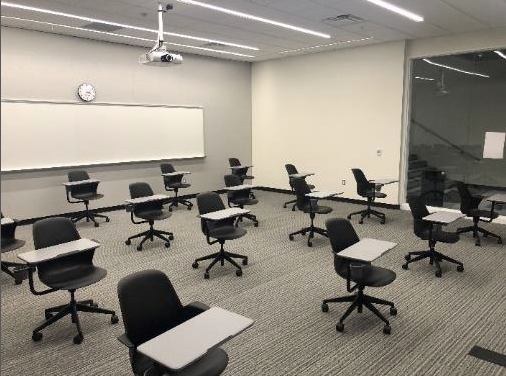 Barriers at Service Desks/Stations
155 plexiglass barriers have been installed around campus at a variety of high-traffic student-facing offices and locations.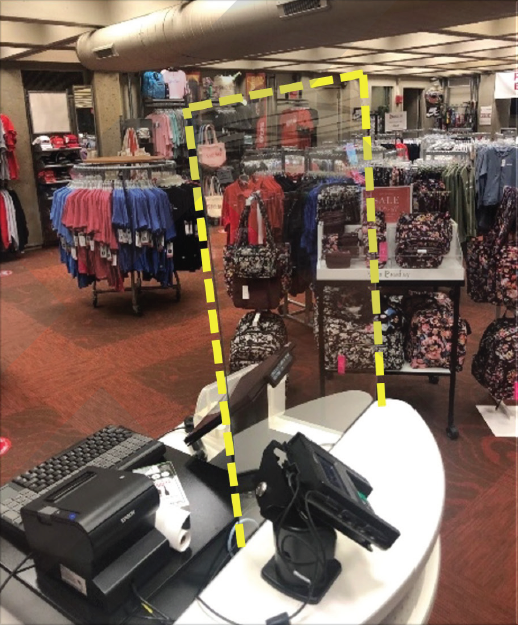 Signs
Signs have been installed in all Sinclair locations, reminding people of safety practices, and other appropriate behaviors to maintain social distancing when appropriate and to mark student queuing areas.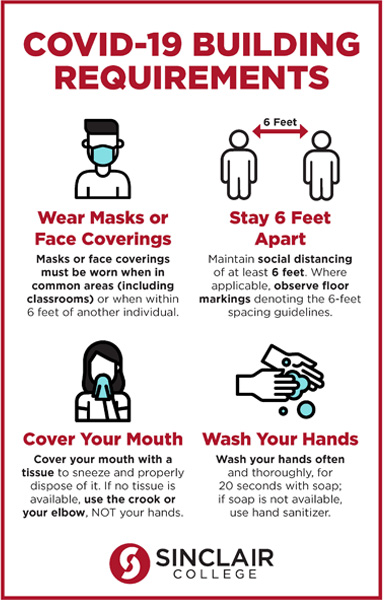 Special Cleaning
Sinclair is committed to maintaining a healthy work environment. Physical distancing and sanitation steps have been taken to maximize safety. All campuses have undergone a deep cleaning and sanitation process, and plexiglass barriers have been installed where appropriate.
Sinclair has increased the frequency of cleaning bathrooms and disinfecting high-touch-point areas, including commonly touched surfaces, such as door handles, faucets, and handrails.
Sinclair has a new cleaning program based on a three-step approach:
Return Safely

Site Assessment completed
Full campus deep cleaning
Acquisition of supplies

Frequent High-Touch Disinfection

Elevator buttons, door handles, restrooms, chair arms in common areas, getting cleaned multiple times per day
Cleaning supplies distributed, and replenished nightly

Broader Disinfection

Broader disinfecting of large areas leveraging electrostatic sprayers
Deep cleaning of all utilized campus areas nightly
Protocols in place to handle emergency cleaning needs of classrooms, offices, common areas, and vehicles in the event of known use by COVID-19 positive individuals
Hand sanitizer and cleaning materials will be made available throughout Sinclair and direction will be provided for employees to clean commonly used equipment before and after each use. Contact Service Control at 937-512-3090 or contact ABM Custodial Services at 937-512-5225 for additional supplies.
Faculty, students, and employees will all be asked to participate in cleaning efforts with responsibilities to sanitize surfaces and equipment in their own workspaces, classrooms or labs, as appropriate throughout the day. Employees must clean and disinfect communal items or equipment, such as copiers, printers, refrigerators, microwaves, etc. before and after each use. Equipment utilized by students in various course and lab sections will be cleaned in between each use.
Abundance of Supplies Acquired
A large volume of cleaning products has been purchased to have on hand. This will be replenished if necessary.
Hand Sanitizer, 180 Gallons
VIREX Virus Killer, 4,500 Liters
Wiping Cloths, 180 Packages
Paper towel rolls in each classroom, 283 Rolls
Good Record Keeping
Thorough records are being kept indicating what was done to a location, along with the time, date, and who completed the cleaning.
Interior Facilities Air Quality
High quality filters are our standard for Sinclair HVAC systems. The air quality in our buildings is good and kept in accordance with American Society of Heating, Refrigerating and Air-Conditioning Engineers (ASHRAE) standards best practices to prevent the spread of any virus along with the use of good personal hygiene, source control and clean spaces. Our current practice is to provide extra outside fresh air to help combat this virus.
Hand Sanitizer Stations
Everyone is required to wash hands regularly or to use hand sanitizer when soap and water are not available. Sinclair has installed about 50 stations throughout the Sinclair campuses.
Special Cleaning Supplies for Use by Faculty and Staff
Each room will be supplied with a special COVID-19 cleaning kit. These items will be available for use at your discretion and are not meant to take the place of professional cleaning. To refill the items in a room's kit, call 937-512-3090.
Each kit will contain:

---
Last updated August 2, 2021.