Campus Access
Available Entrances to Dayton Campus Buildings
The locations below will be staffed by a Security Information Officer (SIO) during the specified times. These doors will be unlocked during campus access hours. The SIO will welcome individuals to campus and will remind anyone not wearing a mask to wear one on campus per Sinclair's mandatory mask policy. Each SIO will have an inventory of masks on hand and will provide one to anyone who does not have one.
Access Hours*
Monday-Thursday 6:30 a.m. - 10:00 p.m.
Friday 6:30 a.m. - 6:00 p.m.
Saturday Hours and locations based on academic schedule
Sunday Closed
*Access hours may shift in alignment with academic schedule. If access is needed outside operational hours, contact Police Dispatch at 937-512-2700.
Dayton Campus Map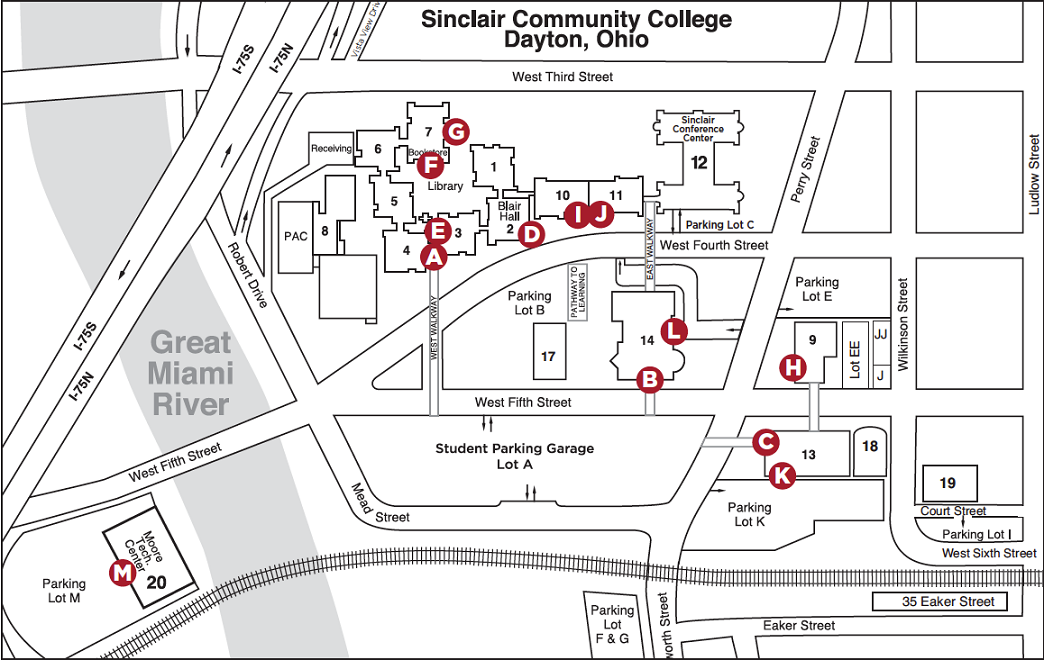 LEGEND:
3rd Floor Walkway from Parking Garage to Buildings 3 and 4
3rd Floor Walkway from Parking Garage to Building 14
3rd Floor Walkway from Parking Garage to Building 13
Building 2, 1st Floor, East End
Building 3, 1st Floor, West End
Building 7, 1st Floor, South End
Increased SIO (Green Coat) Presence
46 SIOs will be monitoring entrances and mask compliance.
Regional Centers
Sinclair's Centerville, Englewood, Huber Heights, and Mason (Building A) locations can be accessed through their front/main entrances. Mason Building B can be accessed from the back entrance.
---
Last updated August 28, 2020.