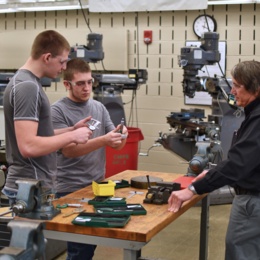 Sinclair College was recently ranked No.1 in the nation to provide vocational training programs. The research study, conducted by Real Work Matters, assessed over 711 colleges nationwide.
Using the most recent data from the National Center for Education Statistics' Integrated Postsecondary Education Data System (IPEDS) and the U.S. Department of Education's College Scorecard, the study looked at the following criteria:
Cost of attendance
Number of associate degree and undergraduate certificate programs offered
Percent of undergraduate students enrolled in any distance education class
Full-time student retention rate & part-time retention rate
The graduation rate
Percent of students working and not enrolled 6 years after entry
Flexibility and student services
Mean annual earnings for students working 10 years after entry
"Over the years, Sinclair has seen an increasing number of students entering the workforce and filling in-demand jobs because of our strong focus on work-based training programs," said Dr. Steve Johnson, President at Sinclair College. "We've invested in apprenticeship and internship programs because our students have made it clear that they want to spend less time in school and more time gaining actual work experience. This is a national effort and it's exciting that Sinclair is a leading example for other colleges across the nation."
Sinclair is recognized as a local and national leader in delivering high-quality and affordable higher education. One of the oldest and best known community colleges in the nation, Sinclair was founded in 1887 by David A. Sinclair and is a board member of the prestigious League for Innovation in the Community College. Sinclair offers nearly 253 accredited degrees and certificates.
For more information, contact Deena John at 937-272-8208 or email at deena.john@sinclair.edu