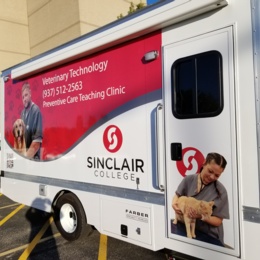 Sinclair Community College is taking its Veterinary Technology Department on the road to provide care to underserved pets in the community and give students vital hands-on experience in the field. Sinclair's new mobile veterinary clinic will provide preventive care and other treatments to pets in need.
Sinclair's new mobile veterinary clinic comes equipped with the tools and equipment students will use to conduct exams, administer vaccinations, perform teeth cleaning, and administer medical tests to help diagnose animals' injuries and illnesses. Sinclair is highlighting the new clinic during National Veterinary Technician Week, October 16-22, 2022, to celebrate, recognize, and promote the valuable contributions credentialed veterinary technicians make to the veterinary profession and society.
"The new mobile veterinary clinic aligns with Sinclair's mission to find the need and endeavor to meet it by providing critical services to people and pets in underserved areas while allowing students to gain valuable hands-on experience and give back to the community," said Dr. Carolyn Reno, Chair – Sinclair Community College Veterinary Technology Department. "There is a growing need for skilled veterinary technicians and the mobile clinic will enhance and strengthen our efforts to build the workforce through exceptional education and hands-on learning."
According to the U.S. Bureau of Labor Statistics, employment of veterinary technicians is projected to grow 20% through the year 2031 with approximately 15,500 openings each year.
"I am so grateful to Sinclair Community College for providing this opportunity to take our passion for pets to individuals and families who may not otherwise have the means to get the care they need," added Katie Campbell, Sinclair Community College Veterinary Technology student.
The students are currently training on the equipment in the mobile veterinary clinic. Sinclair will debut the new clinic in November.
"Not only am I learning in the classroom, but I am taking those skills into neighborhoods in need and giving back to the community by helping pets where they live," said Cole Anderson, Sinclair Community College Veterinary Technology student.
Sinclair's Associate of Applied Science degree in Veterinary Technology is designed to train students to assist veterinarians in animal hospitals, laboratory research centers, referral centers, zoos, and other animal facilities. A registered veterinary technician (RVT) is responsible for assisting the veterinarian in a general practice and performing essential animal care tasks. Sinclair's program provides training in animal husbandry and restraint, nursing, surgical preparation and techniques, drug administration, anesthesia, anatomy, laboratory techniques, and radiography.
Over the past five years, more than 90 students have graduated from Sinclair with an Associate Degree in Veterinary Technology. Nearly all of Sinclair's Vet Tech students are offered one or more jobs prior to the completion of the program.
For Fall Term 2022, Sinclair has also introduced the Veterinary Assistant Short-Term Certificate that prepares students to work within a veterinary hospital, assisting the veterinary technician and veterinarian with animal care by learning and practicing professionalism, client service, animal behavior and restraint, medical assisting, laboratory protocols and collection and preparation of samples, surgical suite care and preparation of animals, and anesthetic monitoring for the stable patient. Students will be offered the opportunity to become Fear Free (R) certified during this program.
Learn more about Sinclair's Veterinary Technology Program at
sinclair.edu/academics/divisions/hs/vet.
###