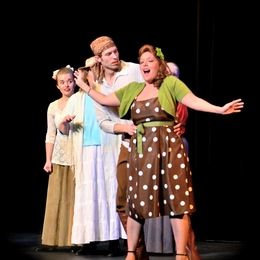 The Sinclair Contemporary Gospel Ensemble, Opera & Music Theatre Ensemble, and special guests, The Sinclair Choral Union-- an ensemble formed of community members from the Greater Dayton Area-- will present: " An Evening in December" on Saturday, December 7 in Blair Hall Theatre at 8:00 p.m.
This concert will be an entertaining evening of vocal and choral music including seasonal melodies, up-beat gospel tunes, and opera/ musical theater scenes from such popular productions as The Sound of Music, Into the Woods, The King and I, Meet me in St. Louis, Hansel and Gretel, and Mame.
Directed by Professors Daniel Greene and Dawn Stone, the concert is specifically designed to encourage people to "'get into the holiday mood".
Admission to the concert is free and open to the public.
For more information contact Daniel Greene @ 937 512-2341 or daniel.greene@sinclair.edu