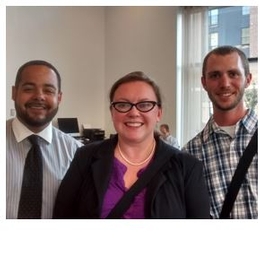 Sinclair GIS (Geographical Information Systems) presented their work at the Annual Conference of the East Lakes Division of American Geographers at Kent State University, October 9-10, 2015. This was Sinclair's first time attending this conference and the only community college participating.
Three Sinclair students presented service learning projects -- John Baltes, Jennifer Lumpkin, and Joshua Schoenherr (left to right in attached photo).
Over 180 faculty and students attended, representing about 25 or so schools. Sinclair's GIS/Geography students were standouts, winning the following awards:
Second place in Undergraduate Paper Presentation
Student: Jennifer Lumpkin
Project: Mapping the Aviation Trail
Community Partner: Mackensie Wittmer, National Aviation Heritage Alliance (NAHA)
Third place in Undergraduate Poster Presentation
Students: Joshua Schoenherr representing a team of Sinclair students, including: John Baltes, Marcus Cox, Sara Hecht, Andrew Matineau, Molly Simonis, and Jayson Vance.
Project: Walkability Study of Downtown Dayton
Community Partner: Tony Kroeger, Department of Planning and Community Development, City of Dayton
Congratulations on your accomplishments!
For more information about our GIS Certificate, contact Dr. Jacqueline Housel.