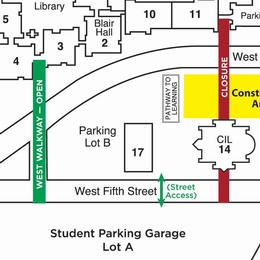 The walkways that connect Building 14 to Parking Lot A and Building 11 will close Friday,
May 27, 2016 and remained closed until the construction of the new Health Sciences
Center is completed in August, 2017.
The walkway connecting Parking Lot A to Buildings 3 and 4 remains open. For those
requiring accessible parking, additional spaces have been made available near the entrance
to this walkway.
For additional information regarding accessible parking, visit
http://www.sinclair.edu/about/visit/parking/. For questions regarding parking, please
email parking@sinclair.edu.
For general information regarding the new Health Sciences Center and the construction
progress, visit strategy.sinclair.edu/health-sciences.
Thank you for your patience as we work to build the future of health care education!