Opportunities to Support Sinclair Athletics
Tartan Athletic Club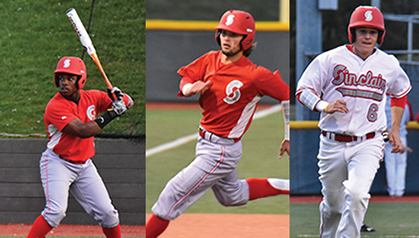 Sinclair Athletics' success is the result of talent, hard work, excellent coaching and an athletics program that continues to gain momentum and attention for developing the whole person within each athlete on five outstanding teams: women's volleyball, basketball and softball and men's basketball and baseball. Each team stands out in its own right, exemplifying the "3 Cs" of classroom, community service and competition. Sinclair athletes work hard, play hard and give their best to their school and community. With the help of former players, coaches, alumni, past parents and friends we are committed to continuing that tradition.
In order to maintain competitiveness in an increasingly strong field and maintain our standard among the NJCAA elite, there remains a pressing need for equipment, travel expenses, recruiting funds and scholarships. Your gift will make a difference in the lives of our student-athletes by providing much needed assistance. You may designate your gift as an unrestricted gift to support Sinclair Athletics' greatest needs OR you may designate your gift to any one of the individual sport programs. Please consider becoming a member of the Tartan Athletic Club by making a gift today!
Click the Club Level Below to Make Your Gift Online
---
Note: Gifts to the Tartan Athletic Club, minus the value of benefits received, are tax deductible to the full extent of the law. The Sinclair Foundation is a tax exempt 501(c)3 organization.