Date: Monday, May 23, 2022
Time: 4:00 PM to 5:00 PM
Campus: Dayton
Location: Building 10, Stadium Staircase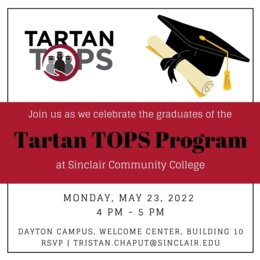 It is with great enthusiasm that we celebrate the first ever graduates of the Tartan TOPS Program at Sinclair Community College.
Join us in congratulating our graduates on this momentous occasion and wishing them well as they begin their next adventures.
Learn more about Tartan TOPS: www.sinclair.edu/tartan-tops
**Light refreshments provided.