Secure Your Future: Events for Adult Learners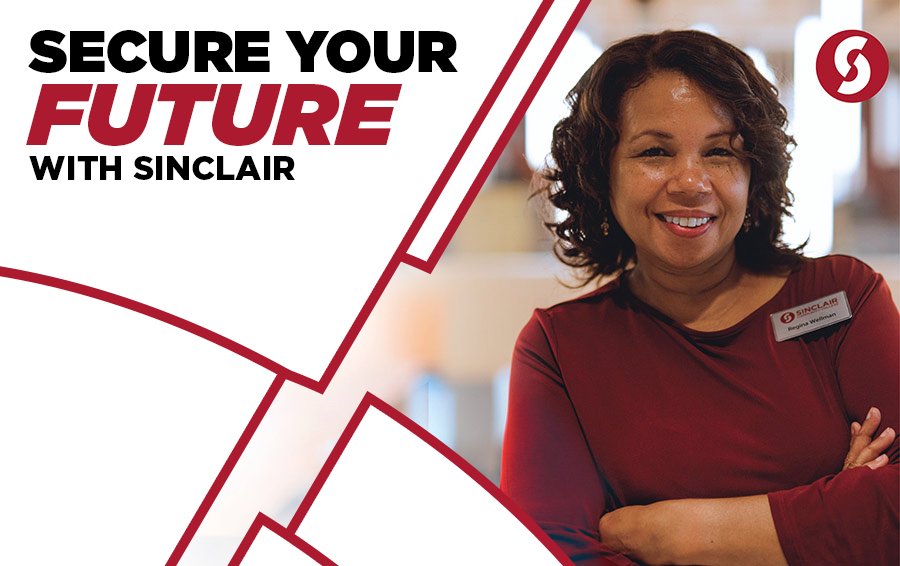 You're Invited to Secure Your Future
Sinclair can help you Secure Your Future and make your dream a reality. With more than 300 certificate and degree programs, supportive faculty and staff, affordable tuition, and flexible course offerings you can go from adult student to alumni quicker than you think!
Whether you are just beginning a college career, or you are returning to college after several years, Sinclair is here to help you achieve your goals. Our Adult Admissions team will assist you through the enrollment process and partner with you to help you achieve your personal best and prepare you for your future.
Take your first step and SECURE YOUR FUTURE today! Have questions about enrolling or want to learn more about Sinclair? Please fill out the form below and an Admissions team member will reach out to assist you.
---
Series Session Dates Registration Information
Join us for our Adult Learner Information Sessions. If you're starting at Sinclair for the first time (or starting again), our Adult Admissions team will assist you through the enrollment process and partner with you to help you achieve your personal best and prepare you for your future. Sessions are offered virtually through zoom on Tuesdays at 11am and at the Dayton Campus on Thursdays at 3pm. Register today! Virtual sessions will be conducted using Zoom. Click the date below to register.
Virtual Secure Your Future Sessions
Tuesday, September 21 at 11 a.m.
Tuesday, September 28 at 11 a.m.
Tuesday, October 5 at 11 a.m.
Tuesday, October 12 at 11 a.m.
Secure Your Future Sessions at the Dayton Campus
Thursday, September 23 at 3 p.m.
Thursday, September 30 at 3 p.m.
Thursday, October 7 at 3 p.m.
Thursday, October 14 at 3 p.m.
Series Session Topic Descriptions
Academic Divisions
Explore the nearly 300 academic programs at Sinclair by academic division.
Learn more about the exciting educational and career opportunities available within each academic division.
Career Exploration with YouScience
Learn more about the YouScience assessment.
Discover how your YouScience results can help you make an informed decision on your best-fit career choices.
Flexible Learning/eLearn and Academic Advising
Explore Sinclair's online programs and classes.
Learn more about the difference between online, flexpace, and blended courses at Sinclair.
Discover more about planning your educational path and how your Academic Advisor can help.
Financial Aid & Scholarships
Learn about applying for financial aid using the Free Application for Federal Student Aid (FAFSA).
Discuss the criteria that you need to meet Satisfactory Academic Progress (SAP).
Learn how to use the Financial Aid Self Service Portal.
Explore scholarship opportunities.
Discover what it means if you are selected for verification.
How to Begin & Next Steps for Enrollment
Learn more about Sinclair and your next steps to starting classes at Sinclair Community College.
Discover more about our academic programs including which programs can be completed online.
Explore academic programs that can be completed in 15 months or 30 months.
Placement Testing and Tutoring Services
Explore what placement tests may be required before you can register for classes.
Discover if you will be required to complete placement tests.
Learn about the process for taking the placement tests.
Hear about the technical requirements for remote placement testing.
Student Affairs/Campus Resources
Explore how Student Affairs offices can support you as you reach your goals.
Discover programs that promote learning, access, wellness, personal development, and engagement.
Learn more about Accessibility Services, Appalachian Outreach, Counseling Services, Student Judicial Affairs, LGBTQ+ Support, Military Family Education Center, Multifaith Campus Ministry, Ombudsman Solution Center, Student and Community Engagement, and Tutoring and Learning Center.