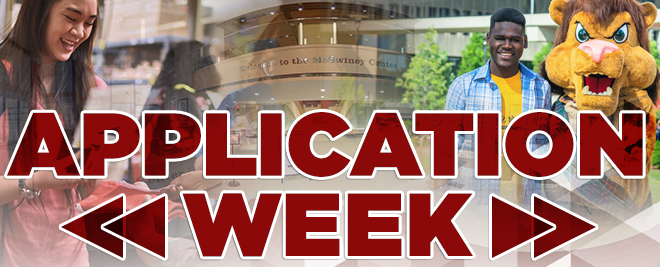 Get Special Assistance & Opportunities During Application Week
Sinclair's Application week from October 18 to 24 is an opportunity for you to join the Tartan Family! During Application Week, you will be able to win prizes and speak with representatives from Admissions, Financial Aid, faculty members, and current students to learn why you should start or continue your education with Sinclair. Please join us this week for online live events designed just for you. All events will be streamed live on our Sinclair Community College Facebook page, unless otherwise noted.
Still looking for reasons to apply to Sinclair? Here are a few:
Nearly 300 exceptional certificate and degree programs.
Sinclair is recognized as the most affordable community college in Ohio.
Credits transfer easily to 4-year colleges and universities.
Award-winning faculty will help prepare you for in-demand careers.
It's free to apply!
The application is quick and easy! It will only take you about 15 minutes to complete.
---
Schedule of Events
All events will be streamed live on our Sinclair Community College Facebook page, unless otherwise note.
Monday, October 19, 2020
3 p.m. | Sinclair 101
Join us for a brief overview of Sinclair Community College. Learn more about our quality academic programs, immersive student life, and other exciting opportunities to help you achieve your goals.
Tuesday, October 20, 2020
11 a.m. | Secure Your Future Information Session: How to Begin
This information session is specifically designed with adult learners in mind. Learn more about Sinclair and your next step to starting classes at Sinclair Community College. Explore academic programs including programs that can be completed online.
**This session will be offered through Zoom not Facebook Live. Please RSVP to receive the Zoom link.
3 p.m. | Sinclair Tutoring and Learning Center
Your academic success is important! Sinclair's Tutoring and Learning Services office offers many different opportunities for academic support provided by quality tutors. Join us to learn more!
Wednesday, October 21, 2020
3 p.m. | University Partners Transfer Panel
Are you considering continuing your education after Sinclair? We can help you seamlessly transfer to several 4-year university partners! Tune it to learn more about the transfer process and some of partner universities. We will be joined by:
Franklin University
Miami University
Ohio University
Ohio State University
University of Cincinnati
University of Dayton
Wright State University
Thursday, October 22, 2020
10 a.m. | Financial Aid and Scholarships
We know a quality education with affordable tuition is important to you! Come learn more about funding your education, as we talk about applying for financial aid using the Free Application for Federal Student Aid (FAFSA) and exploring scholarship opportunities.
3 p.m. | Student Panel Discussion
Hear directly from Sinclair students to learn why you should join Sinclair Community College. Our panel of students will share their experiences and offer you a first-hand glimpse into the student experience.
Friday, October 23, 2020
11 a.m. | Career Exploration with YouScience
Need help deciding on a major? Unsure what career is right for you? We can help! Join Admissions during this session to learn more about the YouScience career assessment tool and how you can take the assessment. What is YouScience? YouScience is a series of brain games that measures your aptitudes and natural abilities and talents and then uses those results to match you to your best-fit career options. Starting on the right career path means you will spend less time and money on the journey to your future!

You could win Prizes!
When you submit an online application between October 18 and October 24, 2020, you will receive Sinclair laptop stickers as part of your acceptance packet. You will also be entered into drawings for the following prizes:
Personalized Career Counseling Sessions
(3 will be awarded)
Each winner will receive:
Access to the YouScience career exploration assessment.
Personal career counseling sessions with a Sinclair Admissions Counselor to review your YouScience results to help you make an informed decision about your best-fit careers.
1 Year of FREE Books*
(4 will be awarded)
Each winner will receive:
A book scholarship for up to $1000.