Center for Energy Education
The Center for Energy Education is nucleus of Sinclair's energy related and sustainability related activities and initiatives.
The 3 kW wind turbine help power the activities that take place in the Center for Energy Education Laboratory. The 1.4 kW solar PV system also helps power the activities in the lab. Sinclair collects the used cooking oil for the kitchen and processes it into biodiesel. The biodiesel is use to power the grounds equipment to cut the grass, plow the snow and transport materials around campus. Then energy bike is used for many tours and outreach programs to teach the community the energy difference required between LED, CFL's and incandescent light bulbs.

3 kW Wind Turbine

Biodiesel Processing Equipment
The Center is engaged in many community outreach activities. Many tours are conducted of the laboratory. The center participates in many community activities off site such as the Vectren Dayton Air Show with the energy bikes and solar racers.

Sinclair at Air Show with Energy Bike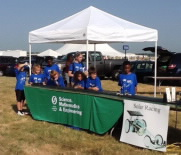 SOAR at Dayton Air Show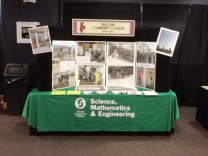 GEO Conference and Workshop
The Center website lists current student activities. The site also list links to energy and environmental websites.
Student Activities
One of the strengths of Sinclair's program is the many collaborations with community partners who provide location for students to gain field experience to enhance the classroom learning.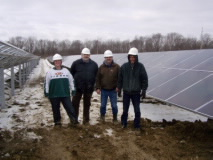 Students on DP&L PV Installation

Students on Solar Thermal Installation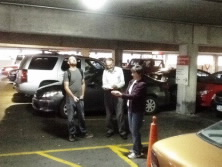 Students Performing Commercial Energy Audit
Students Building and Demonstrating the Wright B Flyer Simulator
To arrange for a tour of the facilities or for more information on programs contact:
Dayla Ismael
Associate Professor
Civil Architectural Technology, Bldg 11, Rm 429
Phone: 937-512-5953
Fax: 937-512-2475