Media Development and Services
The eLearning Division supports student learning and success throughout the college in part through the development of high quality, engaging audio, video and interactive media.
Our full service studio, faculty multimedia lab, and other resources contain the latest in recording and editing technology to ensure the best experience for your students.
Creative Spaces and Tools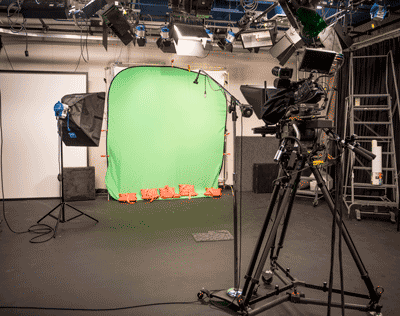 Few ideas are beyond the realm of possibilities for your course. To meet student's needs, we have many spaces and tools available. All employ means to ensure compliance with accessibility requirements of section 508 of the Americans with Disabilities Act.
Learning Technology Production Studio - a 20x30 professionally-equipped HD audio/video studio with control room; also contains capability to shoot video in the field.
Stock Media Tools (click each for a sample) - we can easily create Interactive Timelines, Slideshows, Image Galleries, Image Rollovers, Visual Enhancements, and Tool Tips to make your course go above and beyond basic presentation of content.

Specialized Media (click each for a sample) - when faculty have a specific need not addressed by stock media, we use our talented design team to create content to suit the need. These include Custom Graphics, Presentations, Flipbooks, Swipe Tools, Top Terms, Ensemble Streaming Videos, and Interactive Lab Applications.
Contact us for full information - there are many options available.
Faculty Focused Spaces
Faculty can reserve the Faculty Multimedia Lab by contacting Tim Richardson or call 937-512-4548
This suite allows faculty a space to work on projects in a quiet environment, away from their busy office. The lab offers several work stations for faculty to edit and record audio and video presentations, use screen capture and presentation software, hold or attend web conferences and more. And don't worry if you aren't sure how to use the equipment or software; basic training is available!
Creating Your Own Media
There are several resources available to create your own resources to enhance your course. Check out our ongoing list of these useful tools (requires SCC login credentials).
Contact
For more information or to inquire about planning and development of media, contact your senior instructional designer (if currently working on a course development project) or Greg Deye (or 937-512-3258).