Recruitment for
Provost and Senior Vice President
(The Chief Academic Officer)
Sinclair Community College, based in Dayton, Ohio, is on the move, reaching record levels of student success, while maintaining extraordinary levels of organizational health and stability.
The college is searching for a Chief Academic Officer who will join the college's team of faculty, staff, administrators, students and community leaders in taking Sinclair to the next levels of diversity, growth and community alignment.
Interested and qualified professionals are invited to apply for this senior level administrative position at one of America's largest and notable community colleges.
ABOUT THE POSITION
---
Reporting to the college President and serving on the President's Cabinet, the Provost and Senior Vice President serves as the Chief Academic Officer. The Provost provides strategic leadership to all academic areas of the college to ensure that teaching and learning reflect the mission and values of the institution. The Provost serves as an advocate for all academic programs, providing leadership to faculty and academic administrators to ensure consistent quality standards in curriculum and programs that meet the needs of students. The Provost oversees the academic integrity of the college and provides leadership in long-range planning, budgeting, curriculum, program development, and faculty support. The Provost ensures compliance with various accrediting bodies as well as with state and federal regulations.
The position is complex and has a broad range of duties; below is a sample of key responsibilities of the Provost and Senior Vice President:
Fosters a culture that embraces diversity, promotes educational equity and is focused on students
Embodies the mission, vision and values of the college and exemplifies behaviors and approaches that engage all members of the campus community in supporting the broader needs of students
Further strengthens the educational experience for all students to reach their full potential
Ensures that processes and policies reinforce the strategic priorities of the college and are not obstacles for students
Provides visionary leadership for the academic operations of the college
Enables innovative teaching and learning and encourages transformational practices that promote student success and engagement
Provides leadership for all academic programs and policies to facilitate appropriate program development and to meet the standards of accrediting bodies
Coordinates accreditation efforts and the preparation of reports to various accrediting bodies
Ensures academic excellence while leading people and managing the effective allocation of resources
Ensures systematic review of programs to ensure quality and current course content
Coordinates with the college Deans and approves the hiring, support, development, and evaluation of faculty, staff, and administrators of instructional programs and services
Works with direct reports to plan, develop and administer the annual budget for the academic division of the college
Identifies new sources of revenue to support existing programs and provides leadership for the creation and funding of new programs, which foster the mission of the college
Recruits, develops, and retains outstanding and diverse faculty and staff and fosters mutual respect and understanding
Establishes and maintains an effective plan that supports the recruitment and retention of highly qualified diverse faculty and academic staff
Embraces and promotes collegial consultation and ensures communication with faculty by working closely with the Faculty Senate and other governance committees to promote quality and shared faculty governance
Serves as an important member of the President's cabinet and the college's senior leadership team
Provides advice and counsel to the President on all matters pertaining to the academic operations of the college
Builds congruent relationships between the academic and student affairs divisions to ensure seamless services to students that promote and enable student success
Takes an active role in the community and within state and national associations
ABOUT SINCLAIR COLLEGE
---
Founded in 1887, Sinclair College is the oldest community college in America. Its namesake, David A. Sinclair, challenged the college and the community to "Find the need and endeavor to meet it." Over 133 years, the college has grown to be part of the fabric of the Dayton, Ohio region and serves nearly 30,000 college credit students annually, offering nearly 300 degree and certificate programs.
In 2018, the college adopted three overarching strategic priorities:
ALIGNMENT: Southwestern Ohio citizens, communities, and businesses will be served with educational programs and services that are aligned to the economy and the social needs of this region.
GROWTH: The number of college students will grow, as will the rate of success. More businesses and community organizations will receive more training and development services. Efficiency and effectiveness will grow.
EQUITY: The student body, faculty, and staff will reflect the holistic diversity of the region, and success achievement gaps between groups will be eliminated.
The focus of these priorities allows the college to grow, thrive and meet the broader needs of students and the community it serves. Sinclair has for years offered the lowest tuition of any community college in Ohio. In FY2019, Sinclair awarded more than 8,000 degrees and certificates. With a team of more than 3,000 full- and part-time faculty and staff, Sinclair operates in five locations throughout the Dayton region with a $150 million annual budget.
A snapshot of Sinclair College's recent successes includes: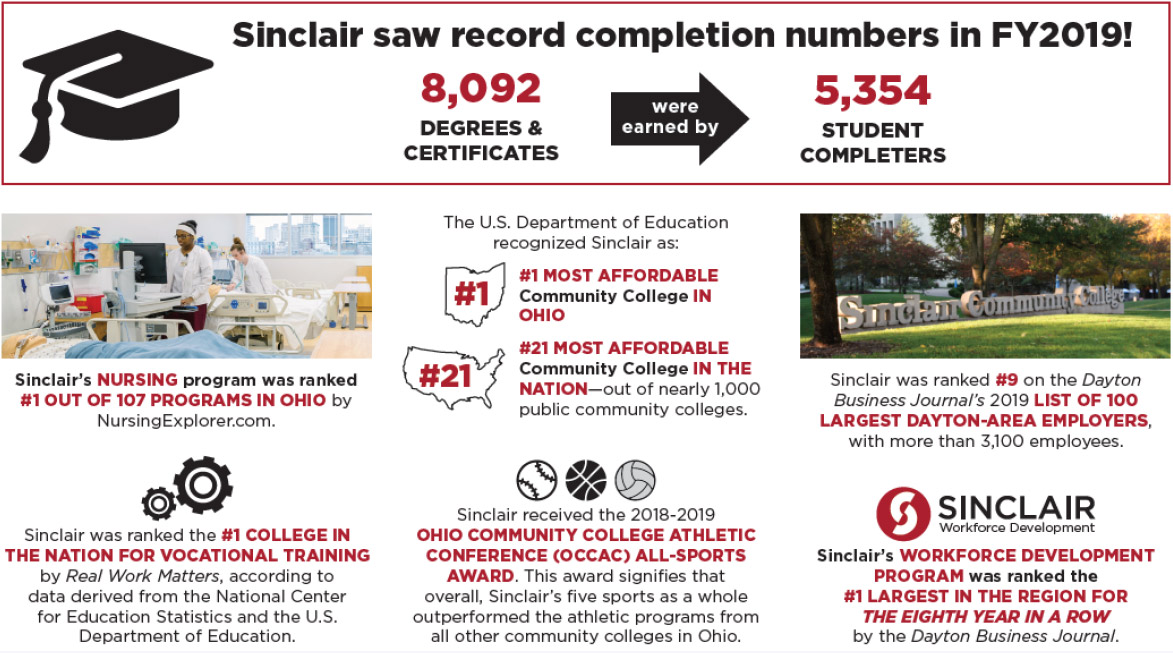 ABOUT THE DAYTON REGION
---
The Dayton Region is a racially, culturally and economically diverse community with a wonderful mix of innovation and resourcefulness. Its rich history has led to some of the world's greatest inventions.
The Dayton community enjoys a quality of life that blends big-city amenities with a small-town feel. From the community's vast outdoor recreation opportunities to its wide variety of housing choices, to abundant amenities usually found in much larger cities, the Dayton Region's diverse residents have created a place where people can build a life filled with purpose, opportunity and joy.
Affordability
The Dayton Region has hundreds of affordable communities, ranging from vibrant downtown spaces to quiet country retreats, and everything in between. With the entire 12-county region accessible within an hour's drive and the average commute time about 20 minutes, residents can pick among urban, suburban and rural communities without sacrificing their free time to their commute.
The average housing price is $124,000 for Montgomery County, and the cost of living is 11 points below the U.S. average. The region is home to some of the best school districts in the state, with partnerships such as the Dayton Regional STEM School and the Dayton Early College Academy.
Arts & Entertainment
Dayton's thriving arts community offers theater, "Broadway" shows, museums, opera, ballet and the world-renowned Dayton Contemporary Dance Company.
The second-oldest regional ballet company in the United States, Dayton Ballet, is known internationally as "The Company of Premieres." One of the top three dance companies in the nation that produces and presents new work, it is the only dance company to establish a fund designated specifically to create new full-length, 21st century ballets.
Muse Machine has been acclaimed nationally — by educators, students, families, the President of the United States and the National Endowment for the Arts — for enriching the creative and academic lives of more than 70,000 young people in Western Ohio each year.
Recreation
The region's vast network of bike trails and river ways has hundreds of parks spanning tens of thousands of acres. With 300 miles of hiking trails, 400 miles of state and nationally designated water trails, and the nation's largest paved trail network — more than 340 miles of connected, off-road bikeways — downtown workers and residents can be whitewater paddling in 5 minutes, rowing in 10 minutes, mountain biking in 15 minutes, and backpacking a 22-mile

CANDIDATE QUALIFICATIONS
---
While no one candidate will embody every desired quality, the successful candidate will bring many of the following professional qualifications and personal attributes:
MINIMUM QUALIFICATIONS
Earned doctorate from an accredited college or university
At least five years of combined experience as a senior leader in higher education academic affairs (Department Chair, Assistant/Associate Dean, Dean or Assistant/Associate Provost)
At least ten years of demonstrated successful experience (in aggregate) in progressively responsible teaching and administrative leadership positions in higher education.
PREFERRED QUALIFICATIONS AND ATTRIBUTES
Academic Administration:
Strong record of successful academic administrative experience in progressively responsible community college positions, which include budgeting, policy, and academic program development
Experience with evaluating tenure-track faculty, as well as experience in faculty leadership, mentoring, and faculty development
Experience in curriculum development, international programs, online learning, educational technology and academic advising/counseling
Successful experience in strategic planning, accreditation, retention, articulation agreement development, and international education
Leadership and Collaboration:
Spirit of imagination, openness and collegiality, coupled with the ability to act decisively, proactively, and fairly
Strong commitment to shared governance and creating and maintaining a collegial environment
Record of achieving institutional goals and directing major projects
Initiator of change and advocate for strategic direction to evolving needs of higher education in today's competitive landscape
Experience in fostering collaboration between academic programs to create interdisciplinary educational experiences for students
Ability to work with faculty, staff, and students as well as community groups of diverse academic, socioeconomic, cultural and ethnic backgrounds
Accreditation and Compliance
Knowledge of accreditation standards set forth by one or more of the regional accreditation agencies
APPLICATION PROCESS
---
To assure priority consideration, applications and nominations will be accepted until February 29, 2020, at noon EST. The search remains open until filled.
All inquiries, nominations, and applications will be held in confidence to the degree allowable under the law.
In order to receive consideration, applicants must submit a complete application consisting of the following:
A cover letter, preferably no more than five pages, which provides examples from background and experience and addresses the Preferred Qualifications and Attributes in this position announcement;
A current resume of professional experience, educational background, and other pertinent information;
Transcripts of graduate course work (unofficial);
A job description of your most recent position; and
A list of five references, including two supervisors, one direct report, one faculty member (or equivalent). Include telephone and email address for each reference. Applicants will be informed before any references are contacted.
All application materials must be submitted electronically in a PDF format to: sinclairsearch@gmail.com
Selection Process
A screening committee, representing the constituencies of the college, will review applications and select a limited number of candidates for an initial interview. The screening process is expected to begin in early March, with initial interviews to be held in mid-March. Candidates selected for further consideration will be invited to interview with the President and participate in open campus forums in late March to early April.
The successful candidate will be expected to be available for service within a mutually agreeable time after acceptance of an offer of employment; provide official transcripts of all higher education course work and verification of experience (if necessary); and complete a comprehensive background check prior to the first day of work. July 1, 2020 is the desired start date (open to some negotiation).
Equal Opportunity Employment
Sinclair Community College is strongly committed to a policy of equal opportunity in its employment practices, educational programs and activities, and the many services it offers to the community. The College does not discriminate against applicants, employees, or students on the basis of race, color, creed, religion, age, sex, sexual orientation, gender identity, marital status, veteran status, national origin, ancestry, citizenship, or disability.
---
For confidential inquiries or nominations, contact:
Mitchell Bailey
Search Consultant
(415) 912-7688
sinclairsearch@gmail.com